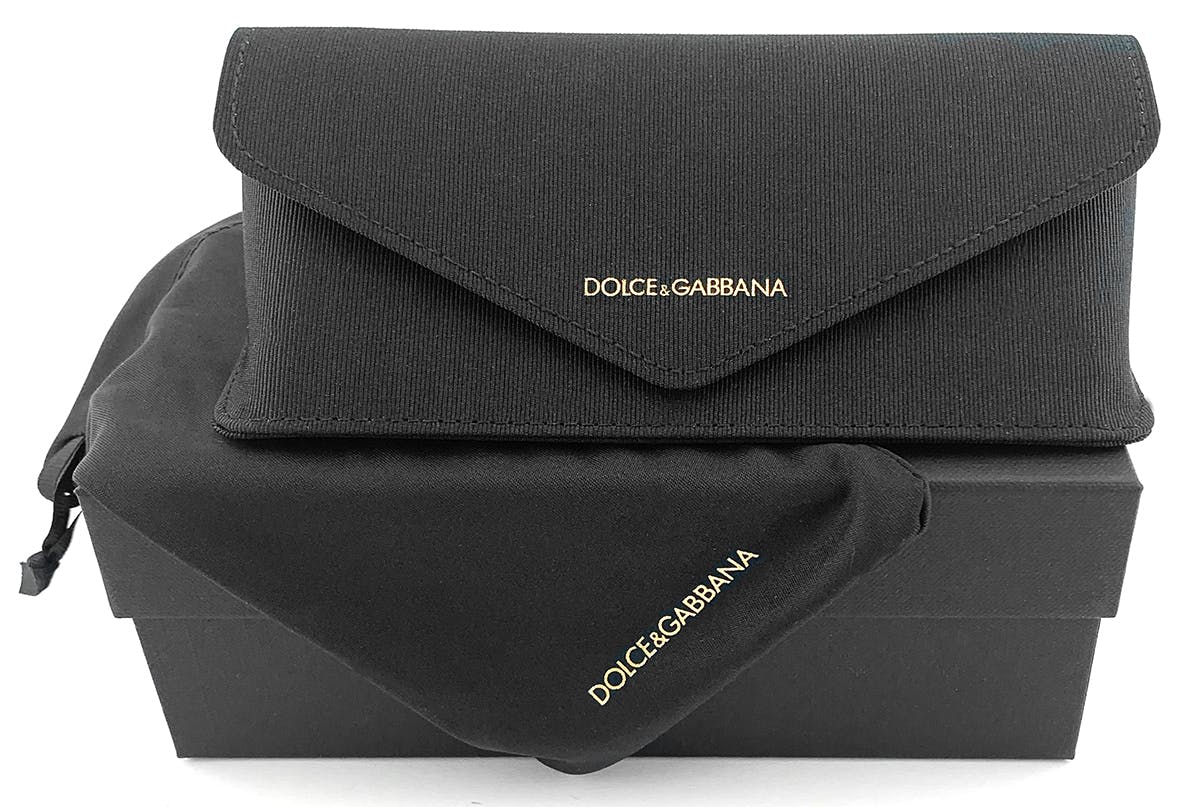 Black/Grey Gradient Lenses
SIZE GUIDE
DESCRIPTION
The Dolce & Gabbana DG4386F are an oversized geometric style handcrafted using high quality acetate for a luxurious feel and comfort. These sunglasses feature the iconic DG Gold Letter detail on both temples and have been fitted with Grey Gradient lenses offering high protection against the suns harmful UV Rays. Dolce & Gabbana design their fashion around expression, Italian Culture and a Mediterranean spirit.
FRAME FEATURES
SKU: DG4386F58
Frame: Plastic
Lenses: Category 3 Lenses, Graduated Lens, Non-Polarised Lens
Shape: Butterfly, Fashion Statement, Geometric, Oversize
PRODUCT INCLUDES
Soft case and fabric bag
ABOUT THE BRAND
Shop a huge range of Dolce & Gabbana Sunglasses online at Just Sunnies. Dolce and Gabbana has created a unique brand for the modern women. These unique designer sunglasses are a beautiful statement that makes every woman want to buy them.
Founded in 1985 by Domenico Dolce and Stefano Gabbana the brand has since grown to influence and dominate the fashion industry. Known for it's unique Mediterranean inspired designs, the luxury brand encompasses originality and superior features in all their sunglasses.
Through numerous collaborations with elite stars including: Madonna, Angelina Jolie and Kylie Minogue, the company has survived decades within the fashion industry and successfully remained prominent. 'The D&G woman is strong; she likes herself and knows she is liked.' –D&G.
MANUFACTURER'S WARRANTY
Dolce & Gabbana sunglasses have a 2-year warranty from the date of purchase against manufactoring defects. This includes:
• Delamination and/or peeling of lens coating
• Bubbles or imperfections in lens coating
• Premature flaking or deterioration of frame coating
• Soldering defects of temple hinges and/or barrels
* General wear and tear is not covered under warranty
For more information about warranty click here:
LENS & FRAMES
The below lens and frame information is general details about the different types of lenses and frames available from Dolce & Gabbana. Specific lens and frame descriptions are available on each individual product description. Eg: Gloss Black/Grey Polarised Lenses.  If you have any further questions please contact our customer service team at: support@justsunnies.com.au
LENSES
All Dolce and Gabbana sunglasses comply with the Australian Sunglasses Standards, offering 100% UV protection from the sun. Dolce and Gabbana use CR 39 lenses, which is hard resin. A CR 39 lenses are used for its high impact strength and is far more scratch-resistant than other plastics. Dolce and Gabbana lenses offer 100% UV protection from the sun.
LENS CATEGORIES
Category 0 - These lenses are classed as fashion spectacles and not sunglasses. They provide limited or no UV protection.
Category 1 - These are not classed as sunglasses. They do provide limited protection from the sun and some UV protection. 
Category 2 - Category 2 lenses provide a medium level of sun glare reduction and good UV protection.
Category 3 - Category 3 lenses provide a high level of sun glare protection and good UV protection.
Category 4 - These are special purpose lenses that must not be used while driving at any time.
Most, if not all sunglasses sold by Just Sunnies are category 2 or 3 lenses. If you have questions about the lens category of your chosen style please do not hesitate to get in touch with our customer service team via email support@justsunnies.com.au or phone (07) 55350994.
FRAME
Dolce and Gabbana frames are handmade from a cellulose acetate material. This is one of the most widely used frame material as it offers high mechanical strength and chemical resistance. The frames are assembled by hand ensuring the best possible frame.