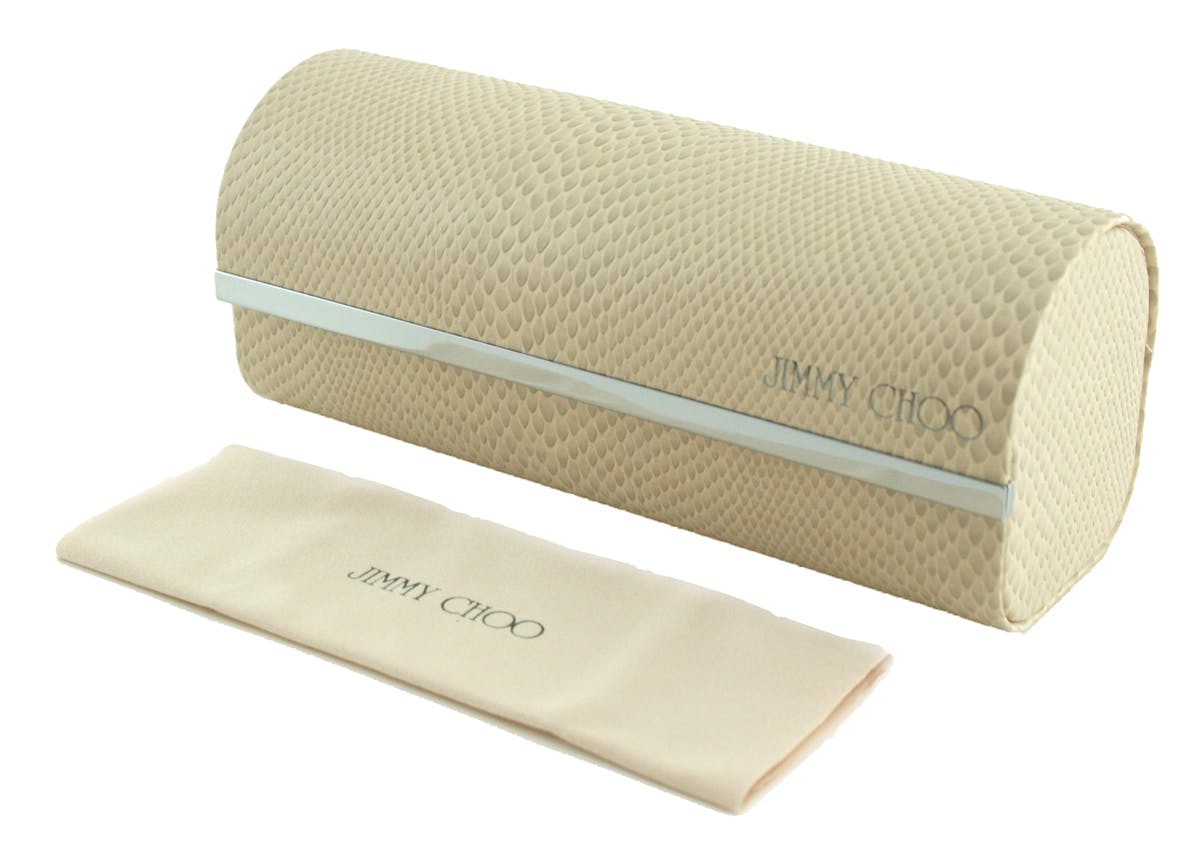 FRAME FEATURES
SKU: ZED0866370
Frame: Plastic
Lenses: Non-Polarised Lens
Shape: Square
PRODUCT INCLUDES
Case and cleaning cloth
ABOUT THE BRAND
Shop the range of sophisticated designer Jimmy Choo Sunglasses online at Just Sunnies Australia, enjoy Fast Delivery and Free Express Shipping*. Jimmy Choo sunglasses are classical in their approach to quality craftsmanship but innovative in their modern designs. Sophisticated, glamorous and fashion-forward for the everyday beautiful women, Jimmy Choo eyewear is perfect for all seasons.
Founded in 1996, Jimmy Choo has grown into an international company known for its sexy cuts, fashionable designs and Italian craftsmanship. Renowned for its shoes, Jimmy Choo now encompasses leather goods, scarfs, belts, fragrances and sunglasses. Today, Jimmy Choo can be seen not only by the fashion elite but regularly in street style shots and on royalty and musicians.
MANUFACTURER'S WARRANTY
Jimmy Choo sunglasses have a 12-month warranty against manufacturers faults.
* General wear and tear is not covered under warranty
For more information about warranty click here:
LENS & FRAMES
The below lens and frame information is general details about the different types of lenses and frames available from Jimmy Choo. Specific lens and frame descriptions are available on each individual product description. Eg: Gloss Black/Grey Polarised Lenses. If you have any further questions please contact our customer service team at: support@justsunnies.com.au
LENSES
Nylon (Polyamide) lenses are produced through injection moulding and they are directly coloured in the moulding mass or in a second moment with uniform or shadowed colours.
Here are the advantages of this material:
• It has class 1 optical quality
• It offers excellent protection against UV radiations
• It undergoes an anti-scratch treatment 
• It is shock-resistant
•  It offers better resistance to cracking under stress.
CR 39: It is also called hard resin or organic glass. CR 39 has been used in the optical field since the Fifties and represents a valid alternative to glass to obtain good quality sunglass lenses. CR 39 is the name of the initial liquid compound that is catalysed with peroxide and injected in glass moulds. After a twenty-hour thermal cycle lenses can be extracted: they will be graduated or afocal depending on the internal curvature of the moulds.
Why using CR 39 lenses?
•  They offer good protection from UV radiation.
• They have a high impact resistance in comparison with other plastics CR 39 is much more non-scratch even without non-scratch surface treatment.
•  They are lightweight: thickness being equal, their weight is half the weight of glass lenses.
•  They assure minimum chromatic aberration. 
LENS CATEGORIES
Category 0 - These lenses are classed as fashion spectacles and not sunglasses. They provide limited or no UV protection.
Category 1 - These are not classed as sunglasses. They do provide limited protection from the sun and some UV protection. 
Category 2 - Category 2 lenses provide a medium level of sun glare reduction and good UV protection.
Category 3 - Category 3 lenses provide a high level of sun glare protection and good UV protection.
Category 4 - These are special purpose lenses that must not be used while driving at any time.
Most, if not all sunglasses sold by Just Sunnies are category 2 or 3 lenses. If you have questions about the lens category of your chosen style please do not hesitate to get in touch with our customer service team via email support@justsunnies.com.au or phone (07) 55350994.
FRAMES
Acetate: Cellulose acetate is one of the most versatile of all plastic frame materials and the most commonly used. It is obtained from cotton flock s and wood pulp, and it can have a great variety of colours, with either a single colour or multiple colours. This material is very adaptable, has a wide range of colours and great for a variety of shapes and surface finish. It is durable and hypoallergenic.
Injected Plastic: This type of frame is produced by injecting the liquid form of plastic into a very precise mould. Injected frames allow for a more contoured fit on the face and bridge. They are thinner and lighter to wear. This process allows the ability to replicate intricate patterns.
Monel Metal & Titanium: This is the most widely used metal in the high-quality manufacturing of sunglasses. Other metals can include Titanium, Stainless Steel and Flexon. Monel metal is a mixture of any of a broad range of metals such as nickel, copper and iron. This metal keeps strength when shaped and is corrosion and stress-resistant.