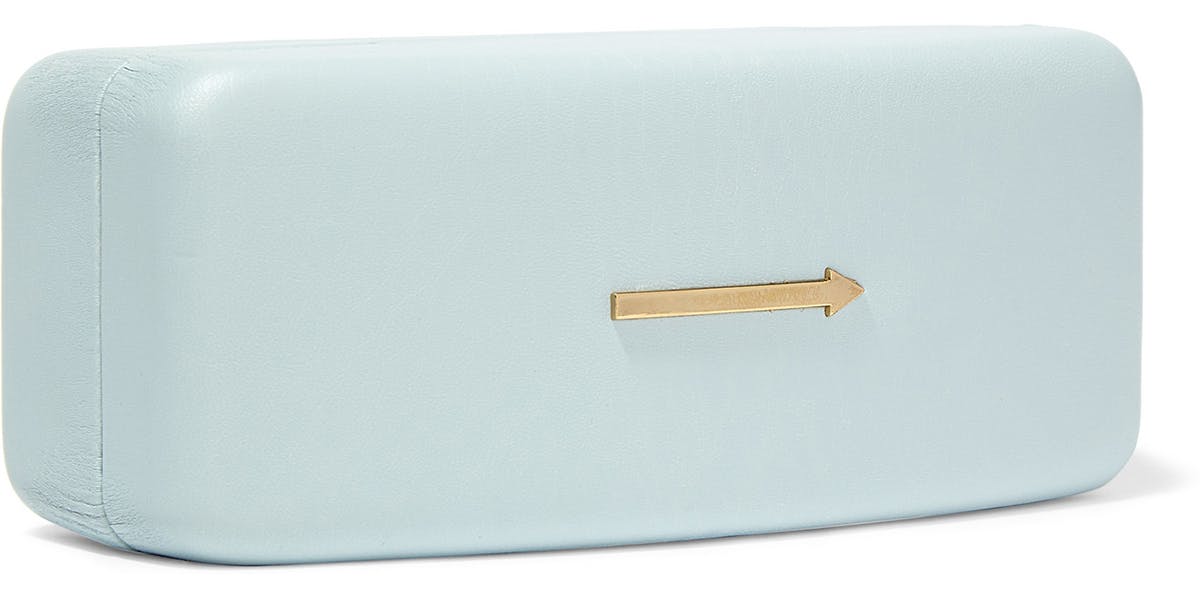 FRAME FEATURES
SKU: 2001871
Frame: Plastic
Lenses: Category 3 Lenses, Non-Polarised Lens
Shape: Fashion Statement, Flat Top, Shield
PRODUCT INCLUDES
Protective case
ABOUT THE BRAND
Shop the selection of Karen Walker Sunglasses online at Just Sunnies and enjoy Fast Delivery and Free Express Shipping* within Australia. The collection of Karen Walker eyewear for women go against the conventional with adrogynous and offbeat designs that are best styled with confidence, complete your purchase with Afterpay or Zippay. Karen Walker is a New Zealand-born fashion designer with a reputation for her original, effortless and unpretentious style, her designs have been described as "the kind of look that provides a means of appearing cool but not trying too hard". See everything from out-there geometric shapes to classic round and rectangular styles that have model off-duty vibes, no matter the style, all Karen Walker sunglasses defy normality with cutting-edge design. 
The collections reoccurring theme is taking extremes and pushing them together - masculine and feminine, tailored and street, luxury and non luxury, dark and super-cute. Karen Walker sunglasses celebrates the anti 'it girl' - characters like Ally Sheedy's heavy fringed weirdo in 'The Breakfast Club', not the beautiful girl in the room, but the interesting one. These extremes reflect heavily in the eyewear collection as an ongoing reference. Small frames with heavy acetate and classic styles in crazy colours. Karen Walker's work consistently takes extremes and pushes them together - masculine & feminine, tailored & street, luxury & non luxury, dark & super cute. See the full range of bold and eclectic Karen Walker sunglasses at Just Sunnies.
MANUFACTURER'S WARRANTY
Karen Walker sunglasses have a 12-month warranty against manufacturers faults.
* General wear and tear is not covered under warranty
For more information about warranty click here:
LENS & FRAMES
The below lens and frame information is general details about the different types of lenses and frames available from Karen Walker. Specific lens and frame descriptions are available on each individual product description. Eg: Gloss Black/Grey Polarised Lenses. If you have any further questions please contact our customer service team at: support@justsunnies.com.au
LENSES
Karen Walker sunglass lenses provide 100% UVA/UVB protection and comply with the Australian and New Zealand Standards UV Standards. Karen Walker sunglasses lenses come in a range of high quality glass and and plastic lenses.
LENS CATEGORIES
Category 0 - These lenses are classed as fashion spectacles and not sunglasses. They provide limited or no UV protection.
Category 1 - These are not classed as sunglasses. They do provide limited protection from the sun and some UV protection. 
Category 2 - Category 2 lenses provide a medium level of sun glare reduction and good UV protection.
Category 3 - Category 3 lenses provide a high level of sun glare protection and good UV protection.
Category 4 - These are special purpose lenses that must not be used while driving at any time.
Most, if not all sunglasses sold by Just Sunnies are category 2 or 3 lenses. If you have questions about the lens category of your chosen style please do not hesitate to get in touch with our customer service team via email support@justsunnies.com.au or phone (07) 55350994.
FRAMES
Karen Walker Frames are all made from top quality metals and acetate.  Acetate is a high quality plastic that has become a popular raw material used to build high fashion and long lasting sunglasses. Acetate is flexible, strong, and durable so you can rest assured they will last a long time.