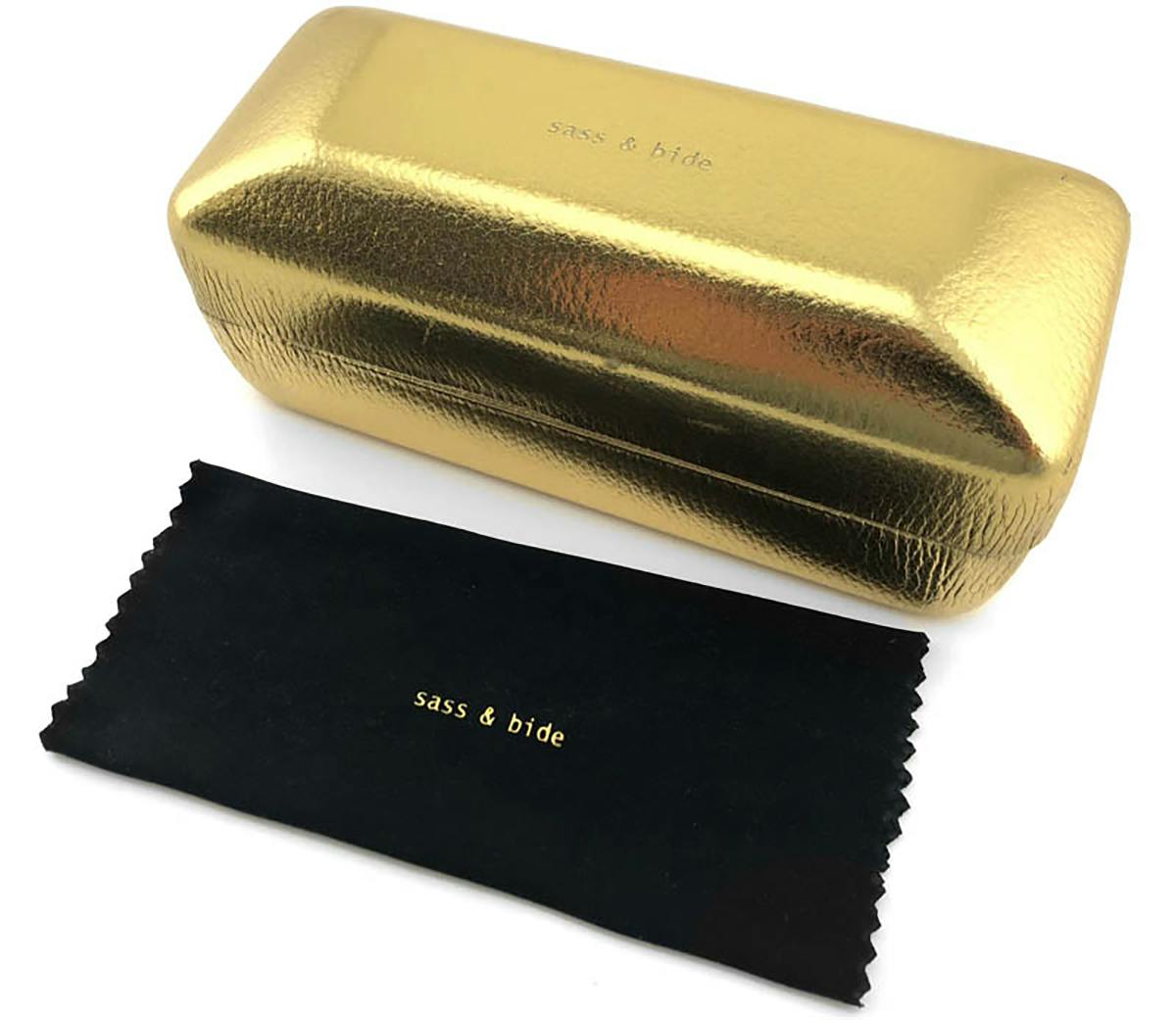 Sass & Bide
Untamed Revelry
Black/Green Lenses
DESCRIPTION
The Untamed Revely sunglasses by Sass and Bide are a combincation of modern times and old fashioned trends. Modern meets vintage throughout the Sass & Bide sunglasses range, with bright colours and patterns, bold lines, and fine detailing.
FRAME FEATURES
SKU: 2009809
Frame: Plastic
Lenses: Category 3 Lenses
Shape: Aviator
PRODUCT INCLUDES
Hard case and cleaning cloth
ABOUT THE BRAND
Shop the biggest range of Sass & Bide Sunglasses online at Just Sunnies. Sass & Bide Sunglasses are a key fashion accessory for every woman that is a Sass and Bide lover! Shop the range today and fall in love! Sass & Bide have created luxurious sunglasses that reflect their signature colours and free-spirited confidence, which the brand is renowned for.
Established in 1999 by best friends Sarah-Jane and Heidi, Sass & Bide began as a small underground Australian denim brand. Sass & Bide have grown internationally to include stockists in over 20 countries worldwide. The iconic brand now offers a full range of designer products from intimates to sunglasses.
The brand has continued to expand in stunning contrasts and contradictions and is regularly spotted on the glamorous runways of New York or on the heads of famous starlets Beyonce, Kim Kardashian and Taylor Swift.
Every frame in the sunglass collection features the signature Sass & Bide star, which represents a tattoo both Heidi and Sarah-Jane share as a symbol of their friendship.
MANUFACTURER'S WARRANTY
Sass & Bide sunglasses have a 12-month warranty against manufacturers faults.
* General wear and tear is not covered under warranty
For more information about warranty click here:
LENS & FRAMES
The below lens and frame information is general details about the different types of lenses and frames available from Sass & Bide.
Specific lens and frame descriptions are available on each individual product description. Eg: Gloss Black/Grey Polarised Lenses. 
If you have any further questions please contact our customer service team at: support@justsunnies.com.au
LENSES
All Sass & Bide Sunglasses comply with the Australian Sunglass Standards AS/NZS 1067:2003 so you can feel comfortable in the knowledge that your eyes are protected.
CR 39 Lenses - CR 39 is also called hard resin or organic glass, a valid and highly efficient alternative to glass. CR39 offers 100% UV protection, have high impact resistance, and in comparison with other plastics CR 39 is much more non-scratch even without a non-scratch surface treatment and they are light weight and assure minimum chromatic aberration.
LENS CATEGORIES
Category 0 - These lenses are classed as fashion spectacles and not sunglasses. They provide limited or no UV protection.
Category 1 - These are not classed as sunglasses. They do provide limited protection from the sun and some UV protection. 
Category 2 - Category 2 lenses provide a medium level of sun glare reduction and good UV protection.
Category 3 - Category 3 lenses provide a high level of sun glare protection and good UV protection.
Category 4 - These are special purpose lenses that must not be used while driving at any time.
Most, if not all sunglasses sold by Just Sunnies are category 2 or 3 lenses. If you have questions about the lens category of your chosen style please do not hesitate to get in touch with our customer service team via email support@justsunnies.com.au or phone (07) 55350994.
FRAMES
Handmade acetate - Handmade Acetate Frames are made from a cellulose acetate material. Cellulose acetate is one of the most versatile of all plastic frame materials and the most commonly used. It a very adaptable material, can have a wide range of possible colour combination, they are hypoallergenic and have high mechanical strength and chemical resistanceThe frames are constructed by hand ensuring attention to detail and the best possible finish.
Monel metal - This is the most widely used metal in high quality manufacturing of sunglasses. Monel metal is a mixture of any of a broad range of metals such as nickel, copper and iron. This metal keeps strength when shaped and is corrosion and stress resistant.