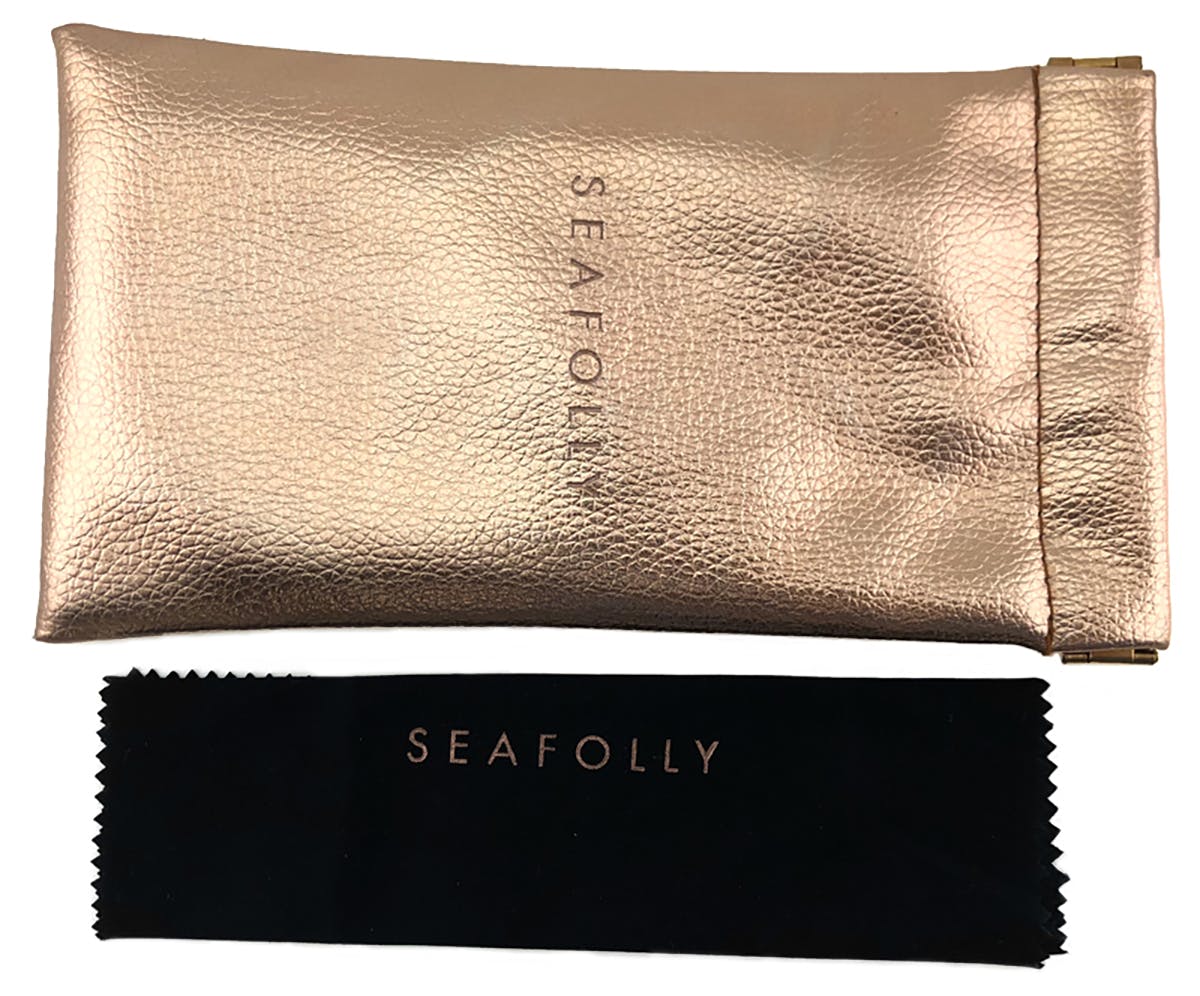 FRAME FEATURES
SKU: 2010221
Frame: Plastic
Lenses: Category 2 Lenses, Non-Polarised Lens
Shape: Oval
PRODUCT INCLUDES
Soft snap top case
ABOUT THE BRAND
Shop the biggest range of Seafolly Sunglasses online at Just Sunnies. Seafolly sunglasses are an extension of their swimwear so you can go to the beach in complete style! Seafolly Eyewear designs are customised for women who love a bit of excitement and colour in their life. Shop the range of fabulous Seafolly sunglasses and have fun in the sun this summer.
Seafolly has expanded to include a range of fashion-forward eyewear. Setting trends all year round, Seafolly sunglasses are designed to incorporate the bold statement prints and elective colours that encapsulate the brand's swimwear range, so you can mix and match your sunglasses with your Seafolly swimwear!
Seafolly originated in 1975 as an Australian swimwear brand. It quickly became a well-known brand worldwide for its appreciation of the beach lifestyle. Seafolly is now stocked in major department stores as well as swimwear boutiques around the world.
We invite you to "Live Life with Seafolly."
MANUFACTURER'S WARRANTY
Seafolly sunglasses have a 12-month warranty against manufacturers faults.
* General wear and tear is not covered under warranty
For more information about warranty click here:
LENS & FRAMES
The below lens and frame information is general details about the different types of lenses and frames available from Seafolly. Specific lens and frame descriptions are available on each individual product description. Eg: Gloss Black/Grey Polarised Lenses. If you have any further questions please contact our customer service team at: support@justsunnies.com.au
Seafolly pride themselves on their quality frames that look great, fit well and offer 100% UV protection. All Seafolly Sunglasses are designed with quality materials to create a product that will last.
LENSES
Polycarbonate Lenses - Polycarbonate lenses are made of a thermoplastic material. These lenses are produced, by injection moulding and coloured directly in the mass in case of uniform tint, or on the surface of moulded lenses, in case of shaded tint.
Seafolly lenses meet the Australian and New Zealand standard 1067:2003 
LENS CATEGORIES
Category 0 - These lenses are classed as fashion spectacles and not sunglasses. They provide limited or no UV protection.
Category 1 - These are not classed as sunglasses. They do provide limited protection from the sun and some UV protection. 
Category 2 - Category 2 lenses provide a medium level of sun glare reduction and good UV protection.
Category 3 - Category 3 lenses provide a high level of sun glare protection and good UV protection.
Category 4 - These are special purpose lenses that must not be used while driving at any time.
Most, if not all sunglasses sold by Just Sunnies are category 2 or 3 lenses. If you have questions about the lens category of your chosen style please do not hesitate to get in touch with our customer service team via email support@justsunnies.com.au or phone (07) 55350994.
FRAMES
Metal - Nickle is an extremely durable, flexible metal material with hypoallergenic nickel-free coated finish. It is Used on all Seafolly metal frame styles.
Plastic - Cellulose Propionate is a hypoallergenic, lightweight and durable plastic material. Used on selected Seafolly plastic frame styles. 
Polycarbonate is an extremely impact resistant, durable and lightweight plastic material.