Ray-Ban is one of the most popular brands on the market, and for good reason. They offer a wide variety of styles and options to suit any taste, and their sunglasses are known for being stylish, durable and technologically advanced. However, with so many different Ray-Ban sunglasses to choose from, it can be tough to know which pair is right for you. That's where our buying guide comes in. We'll help you navigate the top Ray-Ban sunglasses and find the perfect pair for your needs. So if you're in the market for a new pair of sunglasses but don't know where to start, be sure to check out the Ray-Ban buying guide with all the best-selling styles in one place - you may just find your perfect pair.
The Best Ray-Ban Sunglasses
1. Ray-Ban Original Wayfarer
Easily recognisable and regarded as the epitome of cool, the Ray-Ban Original Wayfarer is one of the most iconic and popular sunglasses on the market. But what makes Ray-Ban's Original Wayfarer so special? Part of its appeal lies in its rich history. Frequenting some of Hollywood's biggest blockbusters, the Wayfarer first came to be in 1956 and quickly became a hit with celebrities, movie stars and socialites. Worn by the likes of James Dean, Audrey Hepburn and Tom Cruise, the famous black frames became synonymous with Hollywood glamour.


Aside from its history, the Wayfarer is renowned for its easy-to-wear shape that looks good on all faces. Featuring a rectangular frame with a slight cat-eye shape, this super sleek style is known for its bold acetate frame that really makes a statement. Whether you have a round, oval or square face shape, the Original Wayfarer will balance and complement your features thanks to its upturned frame and lenses that come in a range of eye sizes.


With many different colourways and lens types to choose from, including polarised lenses to block out glare, the Wayfarer can vary in price. Ranging from $205 Australian dollars upwards, the Wayfarer is a modest price for the high quality and impeccable style Ray-Ban is renowned for.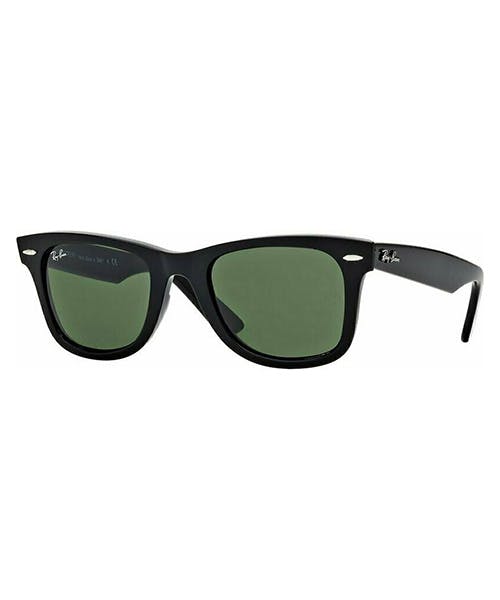 2. Ray-Ban New Wayfarer
Another Wayfarer-inspired style that continues to top the best-seller list is the Ray-Ban New Wayfarer style. Released in 2002 as an updated version of the original, the New Wayfarer is slightly smaller than the original with the same classic shape no one can seem to get enough of. Since the original frames a reminiscent of the 1950s, they have a larger lens, whereas the New Wayfarer is slightly smaller in height and has wider frames, offering a modernised look.


Another distinguishable difference is the upswept shape. The Original Wayfarer's cat-eye shape is much more pronounced than the New Wayfarer with more of a vertical tilt in the frame. The New Wayfarer is less angular and sits more parallel to the face.


Ray-Ban's New Wayfarer sunglasses come in 3 different eye sizes, 52mm, 55mm, and 58mm. How do you know which size is right for you? If you have a small or narrow face, go with the 52mm. If you have a medium-sized face, go with the 55mm. And if you have a large or wide face, choose the 58mm. Or, if you know you like a slightly larger or smaller frame, let your style preference guide you.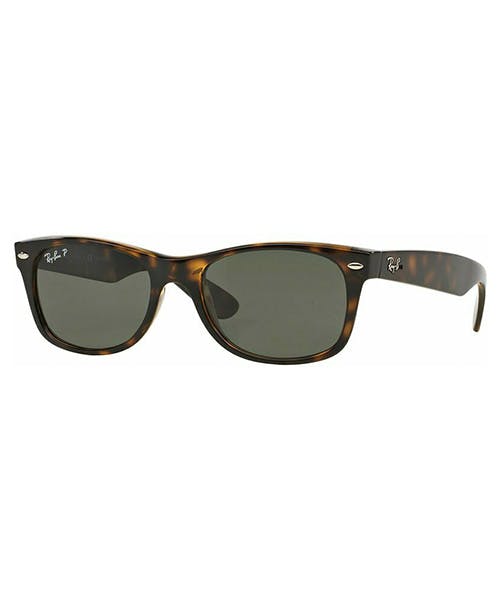 3. Ray-Ban Aviator
Ray-Ban's Aviator style is one of the most popular sun Ray-Ban styles for men and women. The Aviator was first designed in 1936 for pilots who needed sunglasses that would protect their eyes from the harsh glare of the sun while also remaining comfortable to wear while flying. The popular style's distinct teardrop shape is not only stylish, but also offers more coverage than the average lens.

Aviators suit many face shapes, especially oval face shapes as their streamlined design complements oval faces' well-proportioned features. However, they also do wonders in balancing round-shaped faces as the angular edges of the frame contrast and compliment soft facial features.


Available in a variety of eye sizes to suit every shape and style preference, the Aviator is your best bet for a classic style that maintains popularity for its timeless appeal, you'll find everything from polarised lenses to modern mirrors and playful gradient combinations in the famous pilot style.

The Aviator price point starts at the RRP of $200 Australian dollars, increasing in price depending on lens technology and frame material. With high-quality glass lenses that offer superior clarity while being less resistant to scratches, the Aviator is a great investment for a classic style that offers excellent coverage.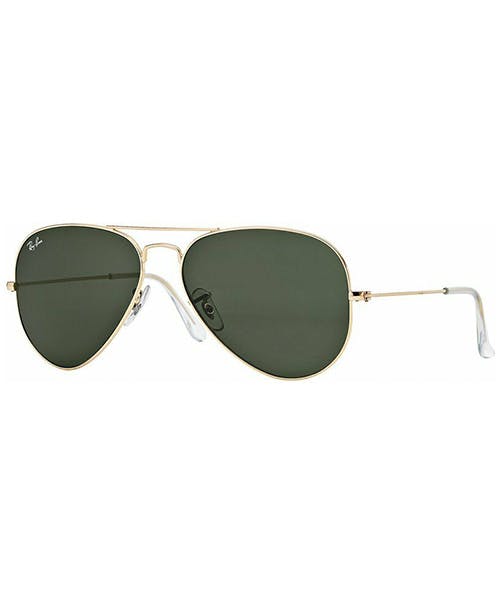 4. Ray-Ban Clubmaster
The Ray-Ban Clubmaster is just one of the many popular styles that Ray-Ban offers, and it has a long and storied history. The Ray-Ban Clubmaster was first introduced in 1986, and it quickly became a popular choice for both men and women for its intellectual-cool appeal that remains ever relevant today.


The Ray-Ban Clubmaster is characterised by its unique brow bar that sits on top of a metal frame. While the Clubmaster has traditionally squared bottom lenses, the classic style has many modern variations with everything from round to oval-shaped lenses.


The Ray-Ban Clubmaster is a great choice for people with medium to large faces, as the brow bar helps to balance out the face. Overall, the Ray-Ban Clubmaster is a timeless style that looks great on any face shape. The Clubmaster is also available in an alternative fit, accommodating to those with a low nose bridge and high cheekbones who require sunglasses with higher nose pads.


Starting at $205 Australian dollars, the Clubmaster comes in a range of lens type options including glass and polarised that vary in price. For a comfortable style with timeless appeal, the Clubmaster is a no-brainer.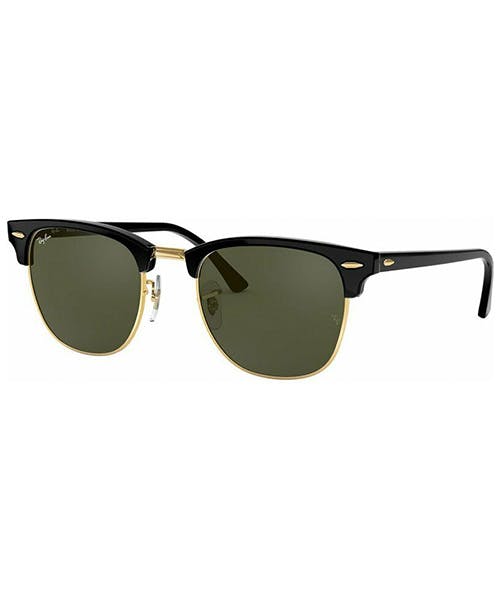 What are the best Ray-Bans for men?
There are many factors to consider when choosing the best Ray-Bans for men. The best pair of shades for you will depend on your personal style, the shape of your face, and its intended purpose. However, there are a few timeless styles that look good on just about everyone.
The Ray-Ban Justin is a masculine style with larger lenses that offer great coverage. Lightweight with all-day comfort, the Justin's are the perfect everyday pair. For those after something more sporty, the Predator 2 style is a cool wraparound shape with a strong 90s influence, making them the perfect pair for both sport and leisure. Another modern take on the Ray-Ban Wayfarer is the Boyfriend sunglasses, featuring larger lenses with a slight down-turn of the top of the frame. The Boyfriend is great for those who prefer a larger fit; this style excels in comfort, protection and style.
What are the best Ray-Bans for women?
Many Ray-Ban styles are marketed as unisex which makes the selection of sunglasses for men and women even greater. However, there is a range of best-sellers that continue to remain as popular today as they did when they were released.
For women, the Hexagonal sunglasses are a comfortably lightweight pair with a statement shape that is suitable for everyday wear. The Ray-Ban Hexagonal comes in a variety of colours, including a glamorous gold-tone finish. For something a little more understated, the Erika Classic is a great choice. The Erika is a mixed material style with an easy-to-wear shape, it comes in a range of colourways including rubber frames for extra grip. For those who love a round shape, the RB2180 sunglasses are a great option for everyday wear that will retain popularity through their classic shape that can be dressed up or down.
Another thing to consider is the colour of the frames. While black is always a safe choice, Ray-Ban offers a wide range of colours that can help you express your style. Finally, don't forget about the way the sunglasses feel on your face. Make sure they're not too tight or too loose and that they stay in place when you move your head around because comfort is key.