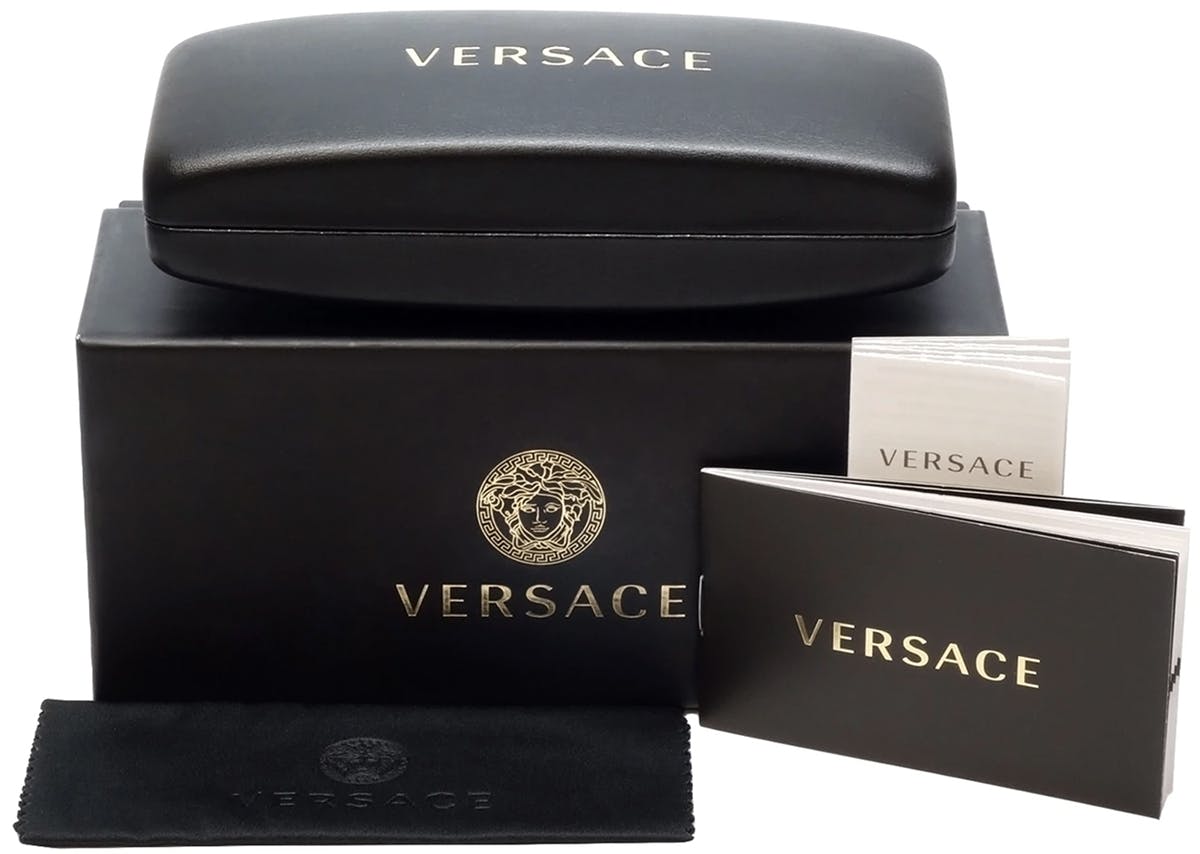 Black/Grey Lenses
SIZE GUIDE
DESCRIPTION
The Versace 4375F sunglasses have a large sqaure frame with bold Versace arms so you can show off your luxurious sense of style in this alternative fit design. Versace is known for its innovative and 'out-of-the-box' designs. The brands sunglasses are extravagant, elegant, and feminine.
FRAME FEATURES
SKU: 4375FGB18753
Frame: Mixed
Lenses: Category 3 Lenses, Non-Polarised Lens
Shape: Square
PRODUCT INCLUDES
Case and cleaning cloth
ABOUT THE BRAND
See the full range of Versace Sunglasses online at Just Sunnies with Afterpay and Free Express Shipping* in Australia. Versace Eyewear encapsulates the brand's iconic embellishments and lavish style as seen in the popular VE2054, VE2166 and VE4361 sunglasses. Versace is centred on the idea of a world of fashion, glamour and sexiness. This effortlessly translates into the Versace Eyewear designs, providing provocative and innovative sunglasses to the luxury market.
Versace Eyewear combines technical innovation with striking designs for women and men with a taste for luxury. All of Versace's frames are distinctive and often feature details taken from the label's graphics. Discover a range of glamorous shapes including embellished shields and bold, geometric shapes with polarised lens options.
In 1972, at the age of 25, Gianni Versace moved to Milan to focus on a career in fashion design and it didn't take long for the Versace brand to gain attention. Gianni Versace redefined modern fashion by combining rock 'n' roll, art, celebrity and theatre with fashion in the 80s.
Today the Versace Empire is run by Gianni's sister, Donatella, who has successfully evolved the brand for the 21st-century consumer. There are now over 100 Versace boutiques around the world, offering millions of consumer's modern, elegant and timeless designs.
MANUFACTURER'S WARRANTY
Versace sunglasses have a 2-year warranty against manufacturers faults.
* General wear and tear is not covered under warranty
For more information about warranty click here:
LENS & FRAMES
The below lens and frame information is general details about the different types of lenses and frames available from Versace. Specific lens and frame descriptions are available on each individual product description. Eg: Gloss Black/Grey Polarised Lenses. If you have any further questions please contact our customer service team at: support@justsunnies.com.au


LENSES 
All Versace sunglasses offer 100% UV protection from the sun, complying with Australian standards. Versace sunglasses are handmade in Italy, providing the highest quality possible.
Versace lenses are CR 39 lenses, which is commonly used hard resin. CR 39 lenses have high impact resistance and are more scratch-resistant than other plastics. 


LENS CATEGORIES
Category 0 - These lenses are classed as fashion spectacles and not sunglasses. They provide limited or no UV protection.
Category 1 - These are not classed as sunglasses. They do provide limited protection from the sun and some UV protection. 
Category 2 - Category 2 lenses provide a medium level of sun glare reduction and good UV protection.
Category 3 - Category 3 lenses provide a high level of sun glare protection and good UV protection.
Category 4 - These are special purpose lenses that must not be used while driving at any time.
Most, if not all sunglasses sold by Just Sunnies are category 2 or 3 lenses. If you have questions about the lens category of your chosen style please do not hesitate to get in touch with our customer service team via email support@justsunnies.com.au or phone (07) 55350994.


FRAMES
Versace frames are made from cellulose acetate material. This plastic is commonly used for its high strength and chemical resistance. Versace frames are assembled by hand for the best possible finish.