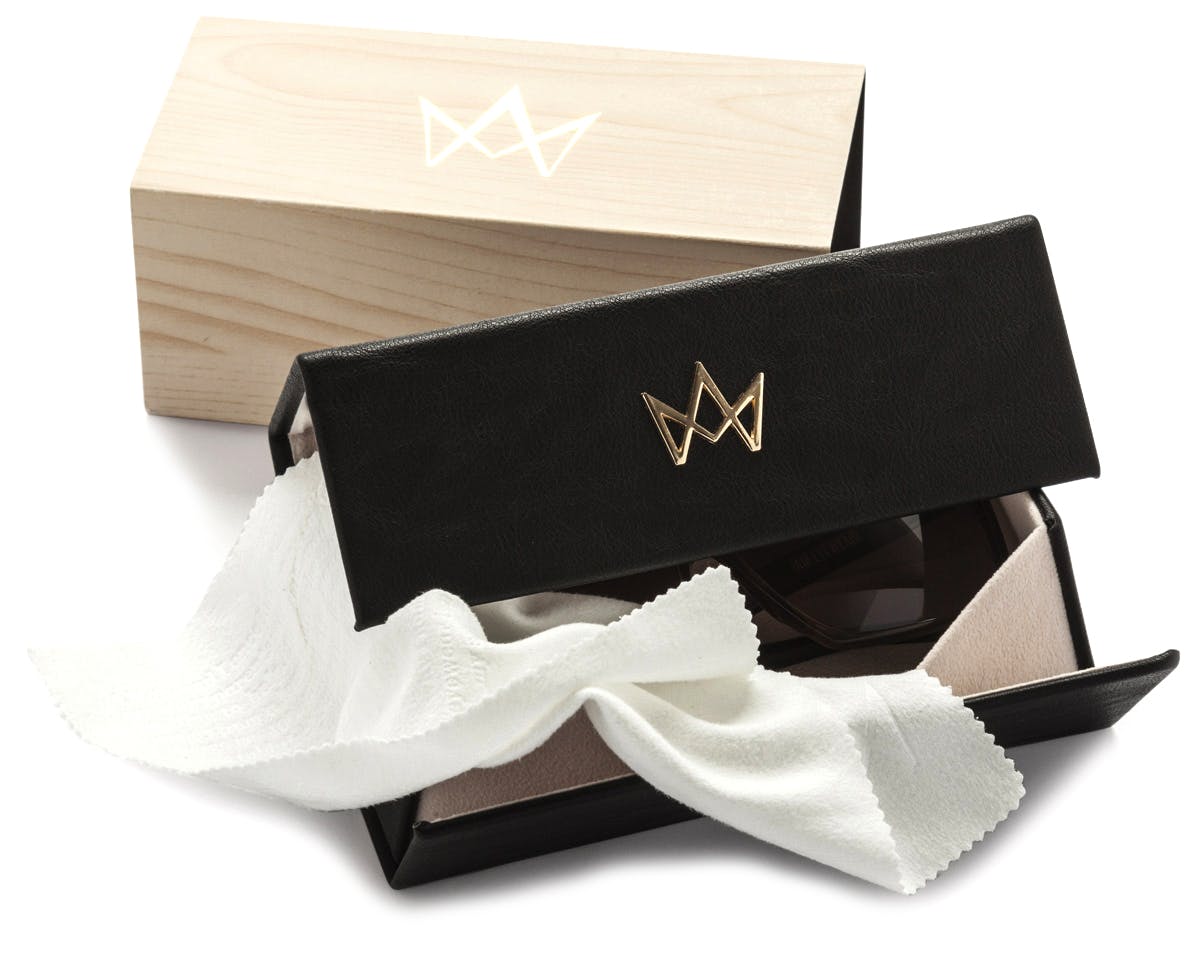 Ghost/Smoke Polarised Lenses
Ships within 4 weeks
Sign up to be notified when this item arrives.
SIZE GUIDE
DESCRIPTION
The AM Eyewear Lukie sunglasses in Ghost are a trendy style that suits both men and women. This rectangular bold shape is timeless and one that can suit many outfits. Fitted with Polarised lenses, these sunglasses will offer a soothing experience by cutting out the glare that can cause strained and fatigued eyes. AM Eyewear sunglasses are designed using traditional methods to craft the perfect product.
FRAME FEATURES
SKU: 142GHSMPOL
Frame: Plastic
Lenses: Category 3 Lenses, Polarised
Shape: Rectangular
PRODUCT INCLUDES
Protective case and cleaning cloth
ABOUT THE BRAND
Shop the latest collection of AM Eyewear Sunglasses online at Just Sunnies Australia with Afterpay and Free Express Shipping*. AM Eyewear is known for its exceptional quality as all AM sunglasses are fitted with Carl Zeiss lenses; see the top styles including the Cobsey, Cobsey II and Mesh sunglasses. AM Eyewear prides themselves as an eco-conscious brand who have established their identity around authenticity while creating beautiful, unique eyewear. The Australian brand has matured into a global lifestyle brand and has become reputable in the fashion industry for its innovative designs. AM Eyewear is a cult luxury brand worn by some of the biggest celebrities including Beyoncé, Gigi Hadid and Alessandra Ambrosio. AM Eyewear sunglasses are for those who appreciate fashion forward rebellious style and superior craftsmanship in true Aussie spirit. See innovative technology fused with remarkable design through AM Eyewear's popular square, rectangle and oversized styles. 
AM Eyewear was launched in 2003, as a five-frame collection by Queensland-born designer Simon Ponnusamy. Since then this Australian brand has earned a sterling reputation both nationally and internationally for its commitment to cutting edge designs, that are unique and manufactured using the highest quality materials, including French APX nylon lenses, hand moulded Italian made acetate frames, and French spring-loaded hinges.

Priding themselves on quality and originality, AM Eyewear is dedicated to designing truly handcrafted eyewear, from start to finish. Each frame is cut from a sheet of Italian Mazzucchelli acetate before being handcrafted and polished by a master artisan in a series of processes that take upwards of 14 hours to complete.
MANUFACTURER'S WARRANTY
AM Eyewear sunglasses are covered by a 12-month warranty against manufacturer faults only. All items deemed faulty under warranty will be repaired or replaced.
General wear and tear is not covered under warranty
For more information about warranty click here:
LENS & FRAMES
The below lens and frame information is general details about the different types of lenses and frames available from AM Eyewear. Specific lens and frame descriptions are available on each individual product description. Eg: Gloss Black/Grey Polarised Lenses. If you have any further questions please contact our customer service team at: support@justsunnies.com.au
AM Eyewear prides themselves on creating truly handmade products from start to finish. AM Eyewear designs are born in the old artisanal way, with a sketchpad and pencil where every aspect is meticulously brought to life.


LENSES
AM Eyewear is one of only a handful of brands that have been granted an exclusive co-branding agreement with Zeiss. AM Eyewear sunglasses are specially fitted with the highest quality Italian-made lenses, ensuring your eyes are protected whilst also looking your best
AM Eyewear lenses have a "military grading" in order to achieve this ranking, these lenses undergo extensive tests for durability and strength. They also hold a superior light reflective index. LYX Lenses are lightweight, scratch, heat and chemical resistant as well as all having a high UV protection rating. As well as all this AM Eyewear has taken things one step further by applying AR- Coating. This fine blue-hued layer reduces optical reflection or 'back glare' from hitting the eye from the back of the lenses. The Anti Reflective coating acts as an absorbing layer and stops light from reflecting back into the eye, this increases wearer comfort and long-term eye health.
Before shipment, AM Eyewear sunglasses are checked for quality through three separate inspection processes to guarantee they meet their stringent standards. They are then packed and shipped by hand.


LENS CATEGORIES
Category 0 - These lenses are classed as fashion spectacles and not sunglasses. They provide limited or no UV protection.
Category 1- These are not classed as sunglasses. They do provide limited protection from the sun and some UV protection. 
Category 2 - Category 2 lenses provide a medium level of sun glare reduction and good UV protection.
Category 3 - Category 3 lenses provide a high level of sun glare protection and good UV protection.
Category 4 - These are special purpose lenses that must not be used while driving at any time.
Most, if not all sunglasses sold by Just Sunnies are category 2 or 3 lenses. If you have questions about the lens category of your chosen style please do not hesitate to get in touch with our customer service team via email support@justsunnies.com.au or phone (07) 55350994.


FRAME
AM Eyewear source 95% of its materials from the small Northern Italian village of Castiglione Olona. The manufacturing process requires each frame to be hand-cut from a sheet of Mazzucchelli acetate before being moulded and shaped by a master artisan. Not all of us are born with facial symmetry so Mazzucchelli's malleable nature allows you to bend and shape the frame to your face, resulting in a truly bespoke fit.  All metal frames are crafted from only the best high-grade, anti-irritant, nickel-free plated stainless steel.
Once the frame has been shaped it is buffed and polished by hand to bring out the Italian acetate's detailing and also give the frame its final immaculate and lustrous finish. It takes the craftsman upwards of 14 hours and multiple complicated procedures to achieve these results.
Each frame is then fitted with the highest quality German OBE or Italian Techno hinges, depending on the individual requirements of the frame, before they inlay their Italian metal logos supplied by Fotomecchanica.