All Categories
Expert Advice
12nd November 2021
Ray-Ban Sunglasses: Everything You Need To Know
If you have been eyeing off a pair of Ray-Ban's but have a few questions up your sleeve, consider this an everything you need to know guide as we answer your most popular questions about the brand and their iconic sunglasses.
Ray-Ban: Your questions answered
Founded in 1937 by the Bausch and Lomb Company in Rochester, New York, Ray-Ban is one of the most globally recognised brands acclaimed for its classic American and timeless style. Not only is Ray-Ban an integral part of pop culture and Hollywood which propelled the brand into popularity, but Ray-Ban also continues to lead the way in innovative lens technology through superior optics and UV protection. If you have been eyeing off a pair of Ray-Ban's but have a few questions up your sleeve, consider this an everything you need to know guide as we answer your most popular questions about the brand and their iconic sunglasses.
What sunglasses category are Ray-Ban sunglasses?
Ray-Ban is renowned for its superior optics and UV protection with all Ray-Ban styles meeting the Australian and New Zealand standards for sunglasses. While all Ray-Ban styles feature the brand's innovative technology, not all styles are category 3. Category 3 lenses are considered the standard level of protection that provides a high level of UV protection, most Ray-Ban sunglasses with solid coloured lenses are category 3, while Ray-Ban styles with a gradient or lighter coloured lens are generally a category 2. Photochromic and blue light styles will often be a category 0 lens, while very light lenses may be a category 1. Your favourite Ray-Ban style will have its lens category listed under "Product Information" on the Just Sunnies product page.
How to check Original Ray-Ban Wayfarer sunglasses are real?
As Just Sunnies is a certified Ray-Ban retailer, all Ray-Ban sunglasses listed on our website are authentic. However, if you are wanting to check the authenticity of a pair you bought elsewhere, there are a few easy ways to spot a fake Wayfarer. Firstly is the look and feel, if they look cheap and feel flimsy they may not be authentic as the Wayfarer should be durable and smooth to touch. Authentic Wayfarers will have a distinct, cursive Ray-Ban logo on the right lens in the top right corner, the left lens should have the letters "RB" etched into it with a crisp and clean finish. Authentic Wayfarer sunglasses will have a raised logo on the side of both temples and measurement markings on the inside of the temples with the messaging, "WAYFARER®, Hand Made in Italy."
What size Ray-Ban sunglasses should I get?
Many popular Ray-Ban styles come in small, standard and large lens sizes to cater for all different head shapes and fits, these eye sizes are determined by the width of the lens. While most people fit the standard size, there is an easy way to determine which size is best for you. Take a credit card and turn it vertically, stand in front of a mirror and place one edge of the card on the centre of your nose bridge. If the other edge of the card meets at the end of your eye, the standard size is the correct fit for you. If the edge extends well beyond your eye, go for the smaller eye size of the style, and if the card doesn't meet the end of your eye, go for the large size.
What are the numbers on Ray-Ban sunglasses?
Most Ray-Ban sunglasses will have the identifying code of the product name along with the size measurements printed on the inside of the temple. You will find an "RB" printed on the temple, with generally four numbers following that indicates the name of the style, the product's colourway is then determined by a sequence of numbers behind it. The size of the style in millimetres is also printed on the inside of the temple. The eye size will be printed with a square next to it, after that, the nose bridge size and the length of the temples will be displayed.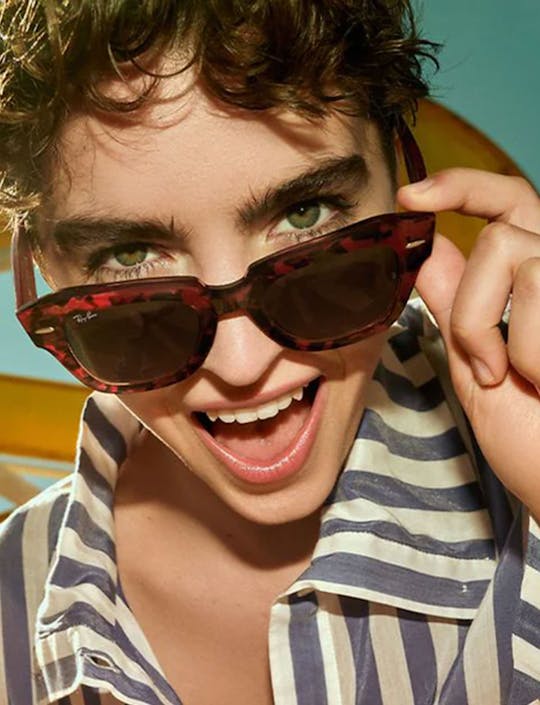 Why are Ray-Ban sunglasses so expensive?
Like other premium sunglasses brands, the price of Ray-Ban's reflects the quality of the eyewear. Many premium and designer brands like Prada, Versace and Ray-Ban are manufactured by the Italian company, Luxottica, with all sunglasses made in their factory in Belluno, Italy. Luxottica is a leader in the premium, luxury and sports eyewear industry, using only the highest-grade materials with exceptional lens innovation, with Ray-Ban sunglasses at no exception. With Ray-Ban sunglasses, you are paying for extraordinary quality and state-of-the-art lenses.


How to tighten Ray-Ban Wayfarer sunglasses?
While the Ray-Ban Wayfarer frame won't bend out of shape, like all other sunglasses, their hinges can loosen from everyday wear. Tightening Wayfarers are simple, hold your sunglasses as if you are going to put them on, you'll see two small, silver screws on each corner of the frame where the face of the sunglasses and the temples meet. You can tighten the screws by using a small screwdriver from your glasses repair kit, or another screwdriver that will fit. Tighten until you feel a slight resistance and repeat on both sides until you achieve your desired fit.