All Categories
Style
5 min | 23rd March 2022
Yellow Lens Sunglasses & On-Trend Tints
Tinted lenses are the latest eyewear trend to elevate your style while boosting your mood. From vibrant yellows to mellow blues and bright red tints, explore the best-selling coloured lenses and their benefits.
Going off the high demand for fashion sunglasses with coloured lenses, it seems tinted lenses will be bigger than ever in 2022. Naturally, we reach for the darkest shades in our wardrobe as a safe option to pair with any outfit. Yet, with "it girls" like Bella Hadid, Dua Lipa and Devon Lee Carlson opting for tinted lenses over extra dark shades, colour blocking with sunglasses will soon be the new norm in elevating your look.

Not only are they a fashionable accessory, but tinted lenses also hold mood-boosting properties with each colour having its own set of benefits to evoke a positive response to your mood. If you need another reason to invest in a pair of coloured lens sunglasses, you can achieve the model-off-duty look while boosting your mood all in the name of self-care.

Yellow lenses

Perhaps the most sought-after tinted lens colour of them all, yellow lenses have held a fondness among models, influencers and celebrities alike for some time. Aside from their fashionable look, what are yellow lens sunglasses for? Yellow lenses have colour enhancing properties that brighten detail and colour on cloudy days. Combined with positive effects on your mood, yellow lenses are your best bet for brightening up your day and your look.

Yellow lenses have had multiple moments over the decades and have well and truly made a comeback, with a certain nineties nostalgia that has the fashion world in a chokehold, we're confident that yellow lenses are here to stay. Gracing your Pinterest and Instagram feed daily, there is nothing that says "it girl" more than a pair of square black frames with yellow lenses.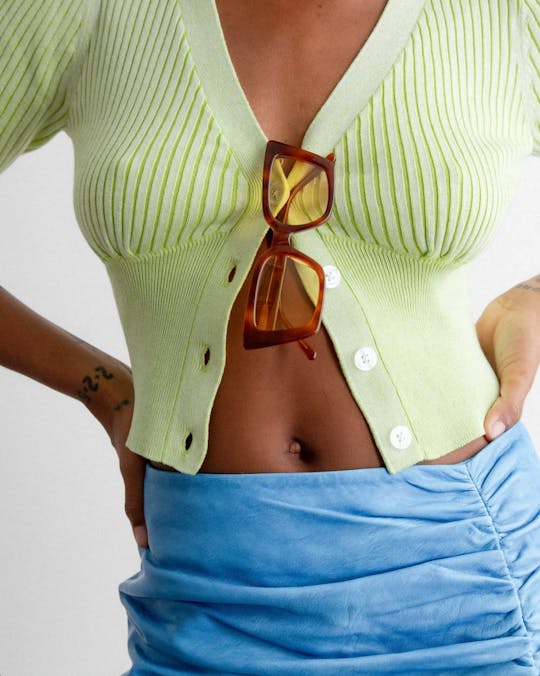 Best-selling yellow lens sunglasses

Blue lenses

If you can't get behind brightly coloured lenses just yet, blue tints might be the move for you. Possessing a Y2K Britney Spears vibe, lenses in baby blue hues are subtle enough for everyday wear while still being playful. Best of all, sunglasses with blue lenses go with just about anything, with honourable mention to a classic pair of blue jeans and a white tee.

The colour blue is known to have a relaxing and calming effect, and blue lenses are no different. Great for wearability and all-day comfort, step out in a pair of black sunglasses with blue frames, or go for a colour contrast with tortoiseshell frames for a striking, fashion-forward look.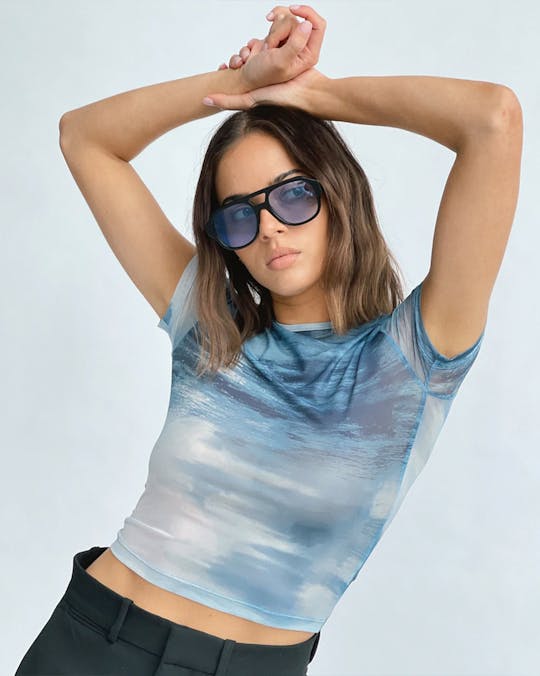 Best-selling blue lens sunglasses

Red & rose lenses

A surprise to some, the latest tint to peak in popularity is none other than fiery red lenses. What was once Elton John's tint of choice has re-emerged in the fashion world, making a statement on the runway with powerhouse brands like Gucci and Versace incorporating the all-demanding shade into high-fashion frames. And as trends to go, we've seen an influx of fiery red and rose tints pop up in other eyewear brands following suit.

It's true what they say about rose-coloured lenses: warm lenses can help you live your day in a mindset filled with love and gratitude. Personally, we can't get enough of this colour, they warm up every look while giving a girl-boss vibe unlike any other tint; we're confident we'll continue to see more red and rose lenses to grace our feeds.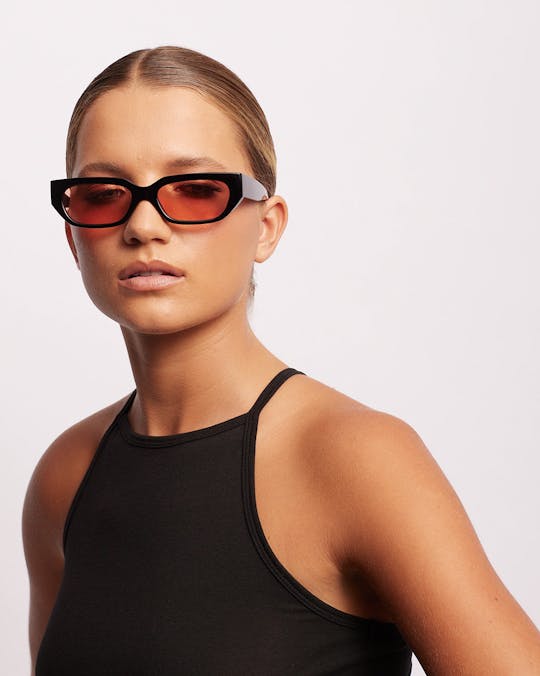 Best-selling red lens sunglasses