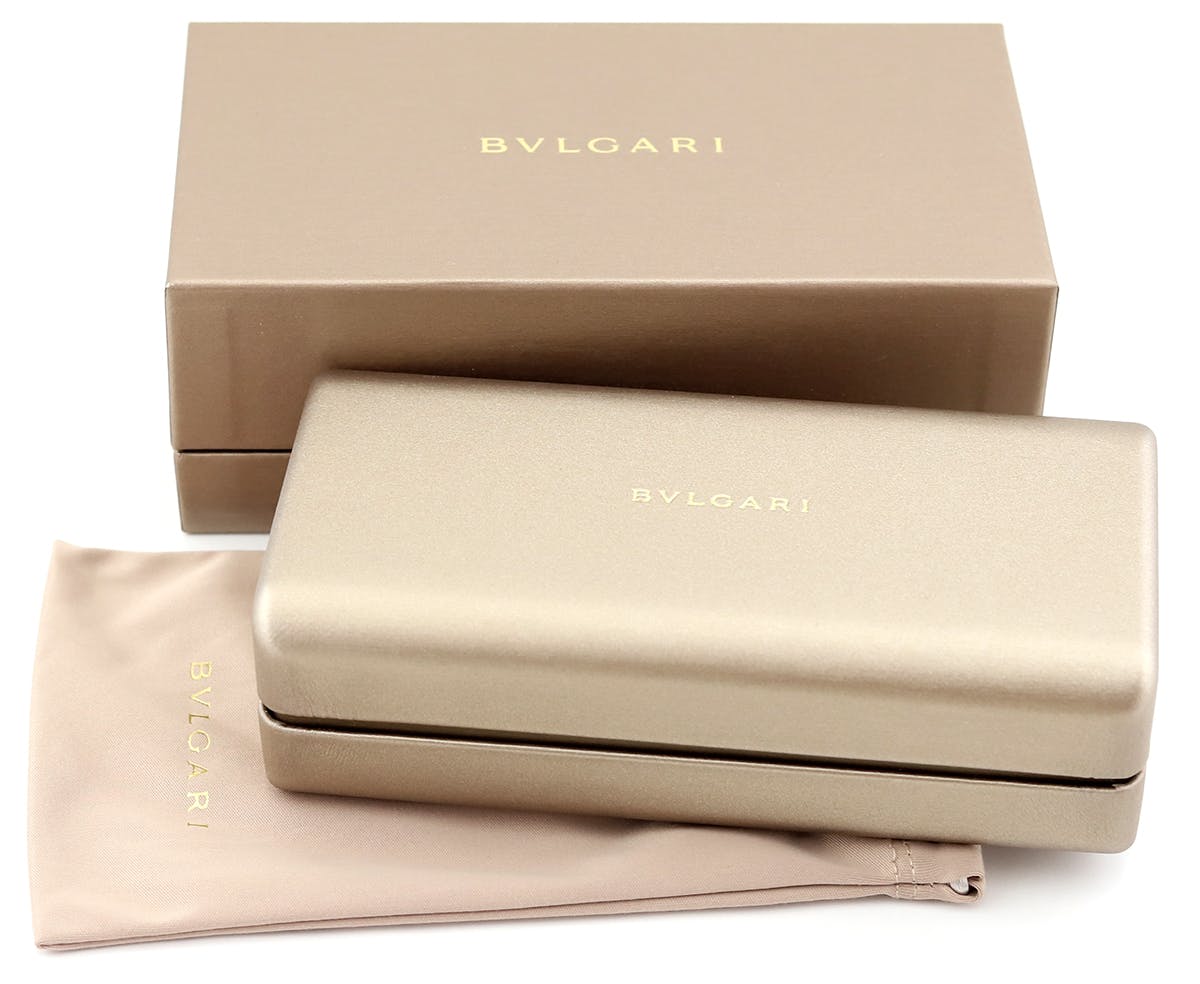 FRAME FEATURES
SKU: 505320225356
Frame: Mixed
Lenses: Category 3 Lenses, Non-Polarised Lens
Shape: Aviator, Square
PRODUCT INCLUDES
Hard Case
ABOUT THE BRAND
Shop the collection of Bvlgari Sunglasses online at Just Sunnies with Fast Delivery and Free Express Shipping* offered within Australia. Bvlgari eyewear is for women and men with a true appreciation for high-end luxury and exclusivity, shop the best-selling styles including the 7034 and 8164BF sunglasses. For over 130 years, Bulgari has been designing stunning pieces that are loved by the rich and famous around the world. This Italian luxury fashion brand from Rome is most known for its extravagant and bold jewellery but has now grown to become an international fashion brand including an acclaimed presence in the eyewear realm. The Bvlgari sunglasses are synonymous with the luxurious jewellery the Italian brand is famed for, enjoy the extravagance through a variety of high-end and eclectic eyewear.
The Bulgari women's sunglasses collection is a reflection of a women's natural beauty by enriching and focussing on the different sides of femininity; charming elegance, trendy urban spirit, or the alluring energy, each with its own unique appeal. While the collection of men's Bvlgari sunglasses epitomise masculinity with a lavish flair through their strong silhouettes that are both modern and timeless. The Bulgari designs are inspired by ancient Rome, delving into the architecture and the ancient roman coins establishing the brand as a luxury power-house inspired by the grandeur of antiquity. 
As one of Bvlgari's biggest admirer's Elizabeth Taylor famously said that "big girls need big diamonds." As her husband Richard Burton said, "The only word Elizabeth knows in Italian is Bvlgari." Bvlgari's eyewear designs are sophisticated and perfectly made for the modern women and men of today.
MANUFACTURER'S WARRANTY
Bvlgari sunglasses have a 2-year warranty against manufacturers faults.
* General wear and tear is not covered under warranty
For more information about warranty click here:
LENS & FRAMES
The below lens and frame information is general details about the different types of lenses and frames available from Bvlgari.
Specific lens and frame descriptions are available on each individual product description. Eg: Gloss Black/Grey Polarised Lenses. 
If you have any further questions please contact our customer service team at: support@justsunnies.com.au
LENSES 
Bvlgari sunglasses have 100% UV protection from the sun, complying with Australian and New Zealand standards. Bvlgari sunglasses have plastic lenses with an anti-sctratch and anti-reflective coating. 
LENS CATEGORIES
Category 0 - These lenses are classed as fashion spectacles and not sunglasses. They provide limited or no UV protection.
Category 1 - These are not classed as sunglasses. They do provide limited protection from the sun and some UV protection. 
Category 2 - Category 2 lenses provide a medium level of sun glare reduction and good UV protection.
Category 3 - Category 3 lenses provide a high level of sun glare protection and good UV protection.
Category 4 - These are special purpose lenses that must not be used while driving at any time.
Most, if not all sunglasses sold by Just Sunnies are category 2 or 3 lenses. If you have questions about the lens category of your chosen style please do not hesitate to get in touch with our customer service team via email support@justsunnies.com.au or phone (07) 55350994.
FRAME
Bvlgari sunglasses are handmade in Italy using a mixture of acetate and metal materials.