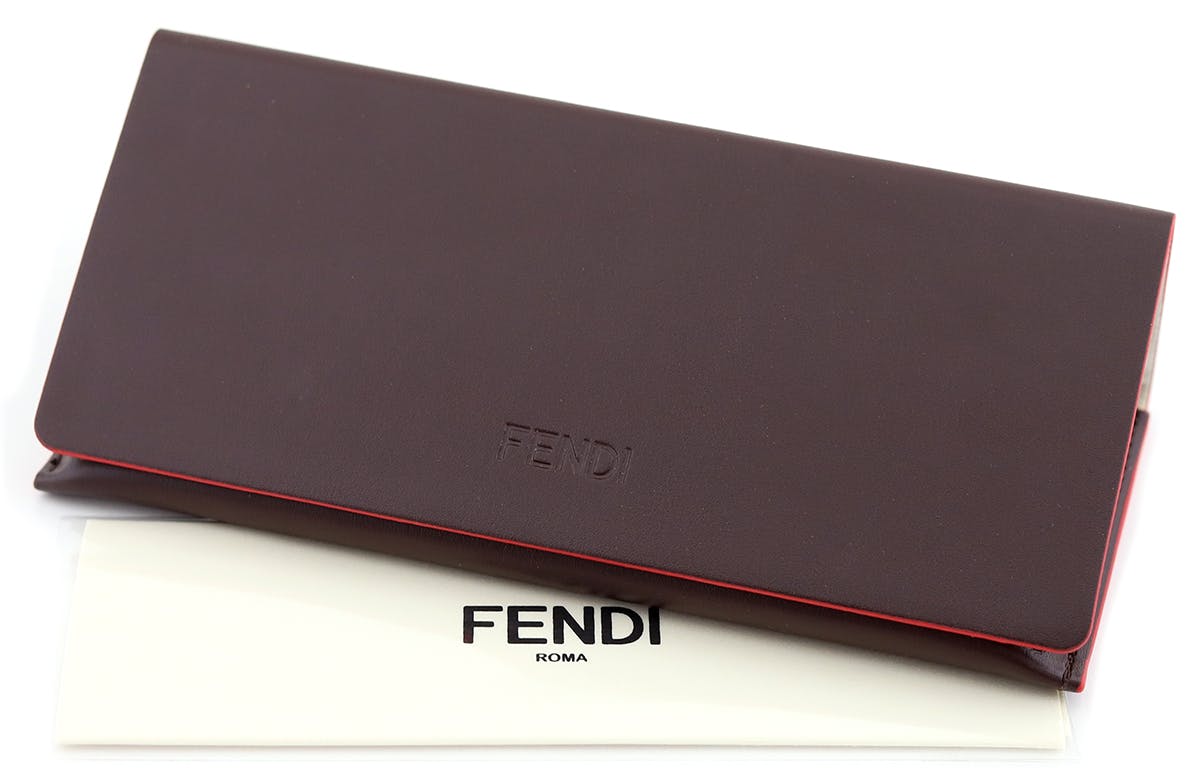 Transparent Green/Brown Gradient Lenses
Sorry, this item is no longer available.
You might be interested in
DESCRIPTION
The Fendi 0431/S sunglasses are a sophisticated, elegant style featuring the distinctive metal trim showcasing the Fendi Roma Baguette logo. Crafted with high end acetate, these sunglasses are made to feel comfortable and light weight wearing.  
FRAME FEATURES
SKU: 0431GS1ED60HA
Frame: Plastic
Lenses: Category 2 Lenses, Non-Polarised Lens
Shape: Fashion Statement, Round
PRODUCT INCLUDES
Case and cleaning cloth
ABOUT THE BRAND
Shop the brand that celebrates eccentric style with the range of fashionable Fendi Sunglasses for women and men online at Just Sunnies Australia, complete your purchase with Afterpay or Zippay. Fendi sunglasses are all about luxury, sophistication and an ultra-feminine style, enjoy Fast Delivery and Free Express Shipping. Designed by a woman for women, Fendi's eyewear line features an eclectic mix of style, indulgence and elegance. Fendi sunglasses strike a perfect balance between avant-garde style and timeless design, making them wearable for every day while maintaining the brand's exclusive style. 
In 1918, Adele Casagrande entered the male-dominated world of leather-goods in Italy. The house of Fendi acquired its current name when Adele married Edoardo Fendi in 1925. The Fendi name has grown into one of the most well-known fashion empires in the world. Fendi strives to incorporate in every product creativity, technology and craftsmanship. This is what gives Fendi its unique and desired reputation.
Fendi sunglasses offer striking styles for those who want to showcase their individuality while embracing high fashion and sophistication. 
MANUFACTURER'S WARRANTY
Fendi sunglasses have a 2-year warranty against manufacturers faults.
* General wear and tear is not covered under warranty
For more information about warranty click here:
LENS & FRAMES
The below lens and frame information is general details about the different types of lenses and frames available from Fendi. Specific lens and frame descriptions are available on each individual product description. Eg: Gloss Black/Grey Polarised Lenses. If you have any further questions please contact our customer service team at: support@justsunnies.com.au
LENSES
Fendi sunglass lenses offer the best protection and are durable. They provide adequate UV protection and are made from the most popular lens material available in the eyewear market today. 
LENS CATEGORIES
Category 0 - These lenses are classed as fashion spectacles and not sunglasses. They provide limited or no UV protection.
Category 1 - These are not classed as sunglasses. They do provide limited protection from the sun and some UV protection. 
Category 2 - Category 2 lenses provide a medium level of sun glare reduction and good UV protection.
Category 3 - Category 3 lenses provide a high level of sun glare protection and good UV protection.
Category 4 - These are special purpose lenses that must not be used while driving at any time.
Most, if not all sunglasses sold by Just Sunnies are category 2 or 3 lenses. If you have questions about the lens category of your chosen style please do not hesitate to get in touch with our customer service team via email support@justsunnies.com.au or phone (07) 55350994.
FRAMES
Fendi has designed comfortable, lightweight and fashionable frames. Fendi sunglasses are leaders in the fashion markets, often being worn by celebrities. Crafted from the finest materials, they fit like a glove and are extraordinarily comfortable.