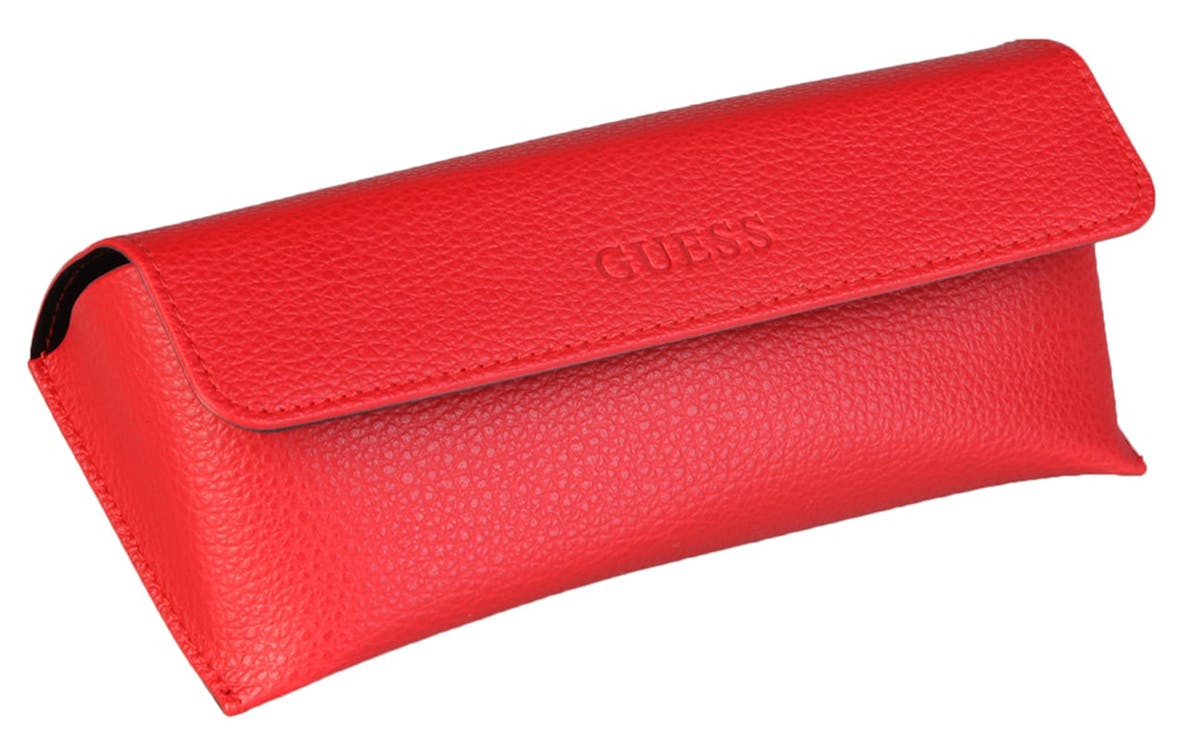 FRAME FEATURES
SKU: 777474W55
Frame: Plastic
Lenses: Graduated Lens, Non-Polarised Lens
Shape: Cat Eye Soft
PRODUCT INCLUDES
Soft leather clip case
ABOUT THE BRAND
Shop a huge range of Guess Sunglasses online at Just Sunnies Australia with Fast Delivery, Free Express Shipping* and Afterpay to complete your purchase. Designed for the adventurous, confident and fashion conscious men and women, Guess delivers products and services of uncompressing quality and integrity consistent with their brand. Offering sleek and sultry designs in a wide range of styles and colours, Guess eyewear satisfies the needs of all personal styles. Guess products are truly unique to other labels and are known for pressing the envelope with some of the boldest designs in the industry. Their unique designs and high quality products are definitely worth the cost. For such a high profile designer label, Guess sunglasses are priced appropriately.
From aviators to wide wraparound sunglass styles, Guess eyewear embraces some of today's hottest trends. Guess is one of the most sought after brand name labels on today's market. The Guess product line provides consumers with an elusive combination of American and European styles.
Founded over 30 years ago by the Marciano brothers, Guess has grown into an internationally respected luxury fashion house. Over the years, their Guess eyewear collection has evolved into one of the most popular eyewear collections available.
MANUFACTURER'S WARRANTY
Guess sunglasses have a 12-month warranty against manufacturers faults.
* General wear and tear is not covered under warranty
For more information about warranty click here:
LENS & FRAMES
The below lens and frame information is general details about the different types of lenses and frames available from Guess. Specific lens and frame descriptions are available on each individual product description. Eg: Gloss Black/Grey Polarised Lenses. If you have any further questions please contact our customer service team at: support@justsunnies.com.au
LENSES
CR-39 
- CR-39, is the highest optical quality lens (with the exception of glass). They are lightweight, highly scratch-resistant, and have low transparency for ultraviolet and infrared light waves.
LENS CATEGORIES
Category 0 - These lenses are classed as fashion spectacles and not sunglasses. They provide limited or no UV protection.
Category 1 - These are not classed as sunglasses. They do provide limited protection from the sun and some UV protection. 
Category 2 - Category 2 lenses provide a medium level of sun glare reduction and good UV protection.
Category 3 - Category 3 lenses provide a high level of sun glare protection and good UV protection.
Category 4 - These are special purpose lenses that must not be used while driving at any time.
Most, if not all sunglasses sold by Just Sunnies are category 2 or 3 lenses. If you have questions about the lens category of your chosen style please do not hesitate to get in touch with our customer service team via email support@justsunnies.com.au or phone (07) 55350994.
FRAMES
Zylonite (Cellulose Acetate) 
- Commonly referred to as Zyl or Acetate Zyl / Acetate is one of the most widely used plastics in high-quality frame manufacturing. Zyl lends itself to creating beautifully sculpted eyewear with endless options for colours, textures and customisation of patterns. Zyl frames are all handmade or hand-finished. This is why Zyl is more expensive than Injected Plastic.

Injected plastic - This type of frame is produced by injecting the liquid form of plastic into a very precise mould. Injected frames allow for a more contoured fit on the face and bridge. They are thinner and lighter to wear. This process allows the ability to replicate intricate patterns.
Monel metal and titanium - This is the most widely used metal in the high-quality manufacturing of sunglasses. Other metals can include Titanium, Stainless Steel and Flexon. Monel metal is a mixture of any of a broad range of metals such as nickel, copper and iron. This metal keeps strength when shaped and is corrosion and stress-resistant. 

Swarovski crystals - Higher quality brands often use Swarovski crystals to enhance the products luxury feel. Swarovski crystals are of a higher quality and clarity than glass rhinestones.