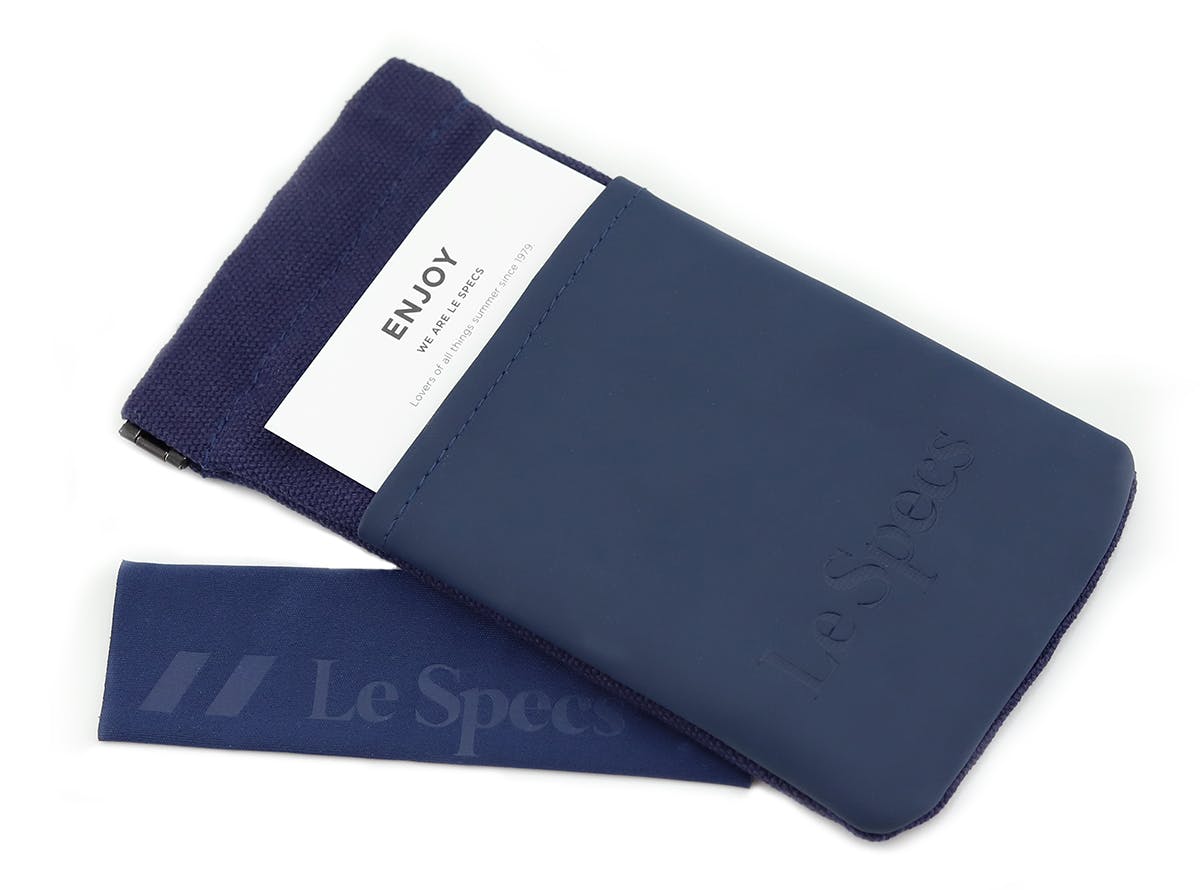 Tort/Deep Smoke Gradient Lenses
SIZE GUIDE
DESCRIPTION
The Le Specs Momala sunglasses are inspired by the 70's era with its round, glamorous silhouette. This oversized fit features Gradient lenses with a Tortoise shell coloured frame offering a style that protrudes a timeless look. This impact resistant frame has been crafted using BPA free polymer plastic offering a light weight and comfortable fit.
FRAME FEATURES
SKU: 2102383
Frame: Plastic
Lenses: Category 2 Lenses, Graduated Lens, Non-Polarised Lens
Shape: Oversize, Round
PRODUCT INCLUDES
Case
ABOUT THE BRAND
Shop the extensive range of Le Specs Sunglasses online at Just Sunnies Australia with Free Shipping* and Afterpay available. Le Specs is a favourite among Bella Hadid, Hailey Bieber and Meghan Markle; it's all about sexy styling that sets trends, rather than following them. The Le Specs Eyewear name has remained a trendsetter in the sunglasses world with inspiring new and retro styles reigniting their signature looks, shop the best-selling styles including the Bandwagon, Unreal! and No Biggie sunglasses. 
Le Specs offer a great collection of both men's and women's frames that continue to excite and impress. Polarised sunglasses are also available to shop, providing superior glare protection. Defined by the reinvention of classic shapes, Le Specs Sunglasses have forged a position in the eyewear marketplace as a leading youth-driven, fashion-forward brand. Discover a variety of shapes including edgy cat eye styles, classic round shapes and on-trend rectangular frames.
The inspiration behind the unique Le Specs styles stems from the flea markets of Berlin, the music scene in Stockholm and the grunge streets of New York making Le Specs a universal brand that stays on top of industry trends. Utilising the label's distinctive red, white and blue logo and jaw-dropping sexy advertising, Le Specs commanded a powerful media presence in the '80s, enjoying an unprecedented level of brand recognition.
MANUFACTURER'S WARRANTY
Le Specs sunglasses have a 12-month warranty against manufacturers faults.
* General wear and tear is not covered under warranty
For more information about warranty click here:
LENS & FRAMES
The below lens and frame information is general details about the different types of lenses and frames available from Le Specs. Specific lens and frame descriptions are available on each individual product description. Eg: Gloss Black/Grey Polarised Lenses. If you have any further questions please contact our customer service team at: support@justsunnies.com.au

LENSES
Polycarbonate Lenses - Polycarbonate lenses are made of a thermoplastic material. These lenses are produced, by injection moulding and coloured directly in the mass in case of uniform tint, or on the surface of moulded lenses, in case of shaded tint. Le Specs lenses meet the Australian and New Zealand standard, with either category 2 or 3 lenses.

LENS CATEGORIES
Category 0 - These lenses are classed as fashion spectacles and not sunglasses. They provide limited or no UV protection.
Category 1 - These are not classed as sunglasses. They do provide limited protection from the sun and some UV protection. 
Category 2 - Category 2 lenses provide a medium level of sun glare reduction and good UV protection.
Category 3 - Category 3 lenses provide a high level of sun glare protection and good UV protection.
Category 4 - These are special purpose lenses that must not be used while driving at any time.
Most, if not all sunglasses sold by Just Sunnies are category 2 or 3 lenses. If you have questions about the lens category of your chosen style please do not hesitate to get in touch with our customer service team via email support@justsunnies.com.au or phone (07) 55350994.

FRAMES
Le Tough - Le Specs' Le Tough frames are made from Polyetherimide. They are lightweight and comfortable. Exceptionally flexible and have a long-term resistance to heat. They have moulded nose pads that are designed for a comfortable fit.
Le Fine - Le Specs' Le Fine frames are made from Nylon. Nylon is lightweight and flexible plastic material providing maximum comfort to every user. This material is impact resistant. The moulded nose pads are designed for a comfortable fit.
Metal - Nickle is an extremely durable, flexible metal material with a hypoallergenic nickel-free coated finish. It is Used on all Le Specs metal frame styles.
Plastics - Cellulose Propionate is a hypoallergenic, lightweight and durable plastic material. Used on selected Le Specs plastic frame styles. 
Polycarbonate is an extremely impact resistant, durable and lightweight plastic material. Used on selected Le Specs plastic frame styles.