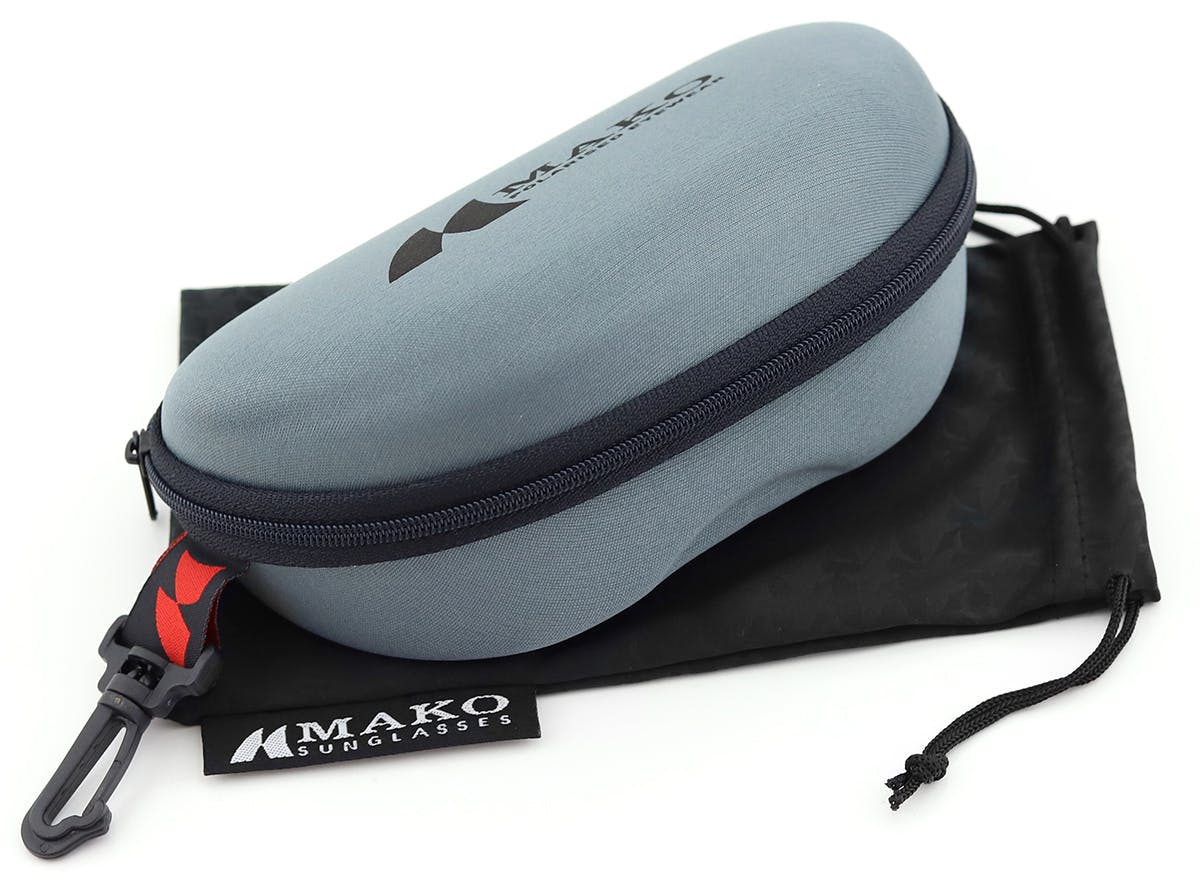 FRAME FEATURES
SKU: 9583M01P0SB20
Frame: Plastic
Lenses: Readers, Polarised
Shape: Square
PRODUCT INCLUDES
Zip case
PERFECT FOR
Fishing/Watersports, Lifestyle
ABOUT THE BRAND
Shop the huge range of Mako Sunglasses online at Just Sunnies with Free Express Shipping* and Fast Delivery. Mako Eyewear is an Australian brand specialising in men's polarised sunglasses designed for fishing and water sports enthusiasts, as seen in the top-selling Mako GT and Escape styles.
Mako Sunglasses offer exceptional performance, superb high contrast resolution and clear precise vision under a wide range of lighting conditions with maximum glare protection. Mako polarised sunglasses are great for recreational activities such as fishing, boating, cycling, snowboarding, or driving.
All Mako Sunglasses are polarised with many offering a photochromic lens in an extensive selection of lens tints and mirror finishes to provide you with the right style, best fit and UV protection. Our new range has over 50 models to choose from, with 3 different lens materials - glass, polycarbonate and NXT.
An Australian polarised brand protecting Australian eyes; see the world through Mako Eyewear.
MANUFACTURER'S WARRANTY
Mako sunglasses have a 2-year warranty against manufacturers faults. Any product covered under warrenty will be repaired or replaced.
Warranty does not cover scratched or broken lenses. Any alteration to your Mako sunglasses will void your warranty
* General wear and tear is not covered under warranty
For more information about warranty click here:
LENS & FRAMES
The below lens and frame information is general details about the different types of lenses and frames available from Mako. Specific lens and frame descriptions are available on each individual product description. Eg: Gloss Black/Grey Polarised Lenses. If you have any further questions please contact our customer service team at: support@justsunnies.com.au


LENSES
All Mako lenses offer 100% UV protection with the best polarised technology. Mako lenses meet the Australian and New Zealand standards and are either category 2 or 3 lenses. 


LENS CATEGORIES
Category 0 - These lenses are classed as fashion spectacles and not sunglasses. They provide limited or no UV protection.
Category 1 - These are not classed as sunglasses. They do provide limited protection from the sun and some UV protection. 
Category 2 - Category 2 lenses provide a medium level of sun glare reduction and good UV protection.
Category 3 - Category 3 lenses provide a high level of sun glare protection and good UV protection.
Category 4 - These are special purpose lenses that must not be used while driving at any time.
Most, if not all sunglasses sold by Just Sunnies are category 2 or 3 lenses. If you have questions about the lens category of your chosen style please do not hesitate to get in touch with our customer service team via email support@justsunnies.com.au or phone (07) 55350994.


FRAMES
Mako has developed a range of strong, lightweight and comfortable sunglasses, made from the highest quality materials. You can be confident your Mako frames and lenses are made to last.
Superior frame technology - Make uses a range of high-quality materials to ensure quality, durability and comfort.
Hi-Tech Nylon Frames - Built from innovative high-density nylon, they feature a special ultra-smooth finish for added comfort and are extremely durable.
Metal Frames - Built from high tensile metal which is resistant to saltwater and numerous acids.
Flex Titanium - Utilising space-age titanium Mako's Flex frame is built to handle the rigours of outdoor sports with its amazing recoil properties.