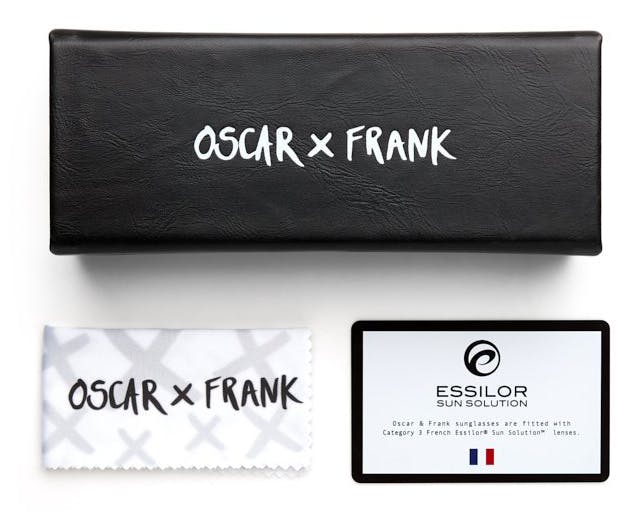 Tort Beige/Dark Brown Lenses
Ships within 3 weeks
Sign up to be notified when this item arrives.
SIZE GUIDE
DESCRIPTION
The Oscar & Frank Alle Ossa sunglasses in Tort Beige are a style favorite for both men and women with their bold statement but flattering colour way. This square-shaped style has been crafted with high-quality products such as Italian acetate for durability and Italian Viscottica Cosmotec hinges for strength. Fitted with Black lenses that have an anti-reflective inner lens coating to prevent rear glare, these sunglasses will be your perfect summer accessory.
FRAME FEATURES
SKU: 044TB
Frame: Eco-friendly, Plastic
Lenses: Category 3 Lenses, Non-Polarised Lens
Shape: Square
PRODUCT INCLUDES
Case and cleaning cloth
ABOUT THE BRAND
Discover the luxury range of Oscar & Frank Eyewear for men and women online at Just Sunnies Australia with Fast Delivery, Free Shipping* and Afterpay available. Oscar & Frank have hit the fashion benchmark with some of their top-selling styles such as the Ion, Cortez and Fae which can be seen worn by A grade celebrities such as Hailey Bieber, Justin Bieber, Vanessa Hudgens and others - Browse the range and complete your online purchase using Zippay. This Australian eyewear label was founded and designed in Sydney in 2014, with the brand's vision focused on international quality and cutting edge designs. Functionality and quality are at the forefront of Oscar and Franks designs, investing in the very best materials and trusted techniques from countries such as Italy, France and Japan. Each frame is handcrafted using premium Mazzucchelli plant-based acetate and Japanese stainless steel offering strength, flexibility and unique colourways. Oscar and Frank's unisex eyewear range is made for year-round wear fusing sustainability and modern technology with contemporary design.
MANUFACTURER'S WARRANTY
Oscar & Frank sunglasses have a 12-month warranty against manufacturers faults.
* General wear and tear is not covered under warranty
For more information about warranty click here:
LENS & FRAMES
LENS & FRAMES
The below lens and frame information is general details about the different types of lenses and frames available from Oscar & Frank. Specific lens and frame descriptions are available on each individual product description. Eg: Gloss Black/Grey Polarised Lenses. If you have any further questions please contact our customer service team at: support@justsunnies.com.au
LENSES
All Oscar & Frank sunglasses offer 100% UV protection and meet Australian standards and uses the highest quality lenses by world-renowned French lens manufacturer Essilor® Sun Solution™, one of the worlds leading sun lens technology companies. Oscar & Frank have created sun lenses that react and transform themselves according to the surrounding environment. The lenses used in their products are CR39 & APX (Nylon) lenses which will offer an unparalleled optical experience during bright and low light conditions.
LENS CATEGORIES
Category 0 - These lenses are classed as fashion spectacles and not sunglasses. They provide limited or no UV protection.
Category 1 - These are not classed as sunglasses. They do provide limited protection from the sun and some UV protection. 
Category 2 - Category 2 lenses provide a medium level of sun glare reduction and good UV protection.
Category 3 - Category 3 lenses provide a high level of sun glare protection and good UV protection.
Category 4 - These are special purpose lenses that must not be used while driving at any time.
Most, if not all sunglasses sold by Just Sunnies are category 2 or 3 lenses. If you have questions about the lens category of your chosen style please do not hesitate to get in touch with our customer service team via email support@justsunnies.com.au or phone (07) 55350994.
FRAMES
Oscar & Frank sunglass frames are made with an acetate material contributing to the sunglasses hypoallergenic, lightweight, and flexible features. Oscar & Frank sunglasses are also available in silver and gold metal designs.