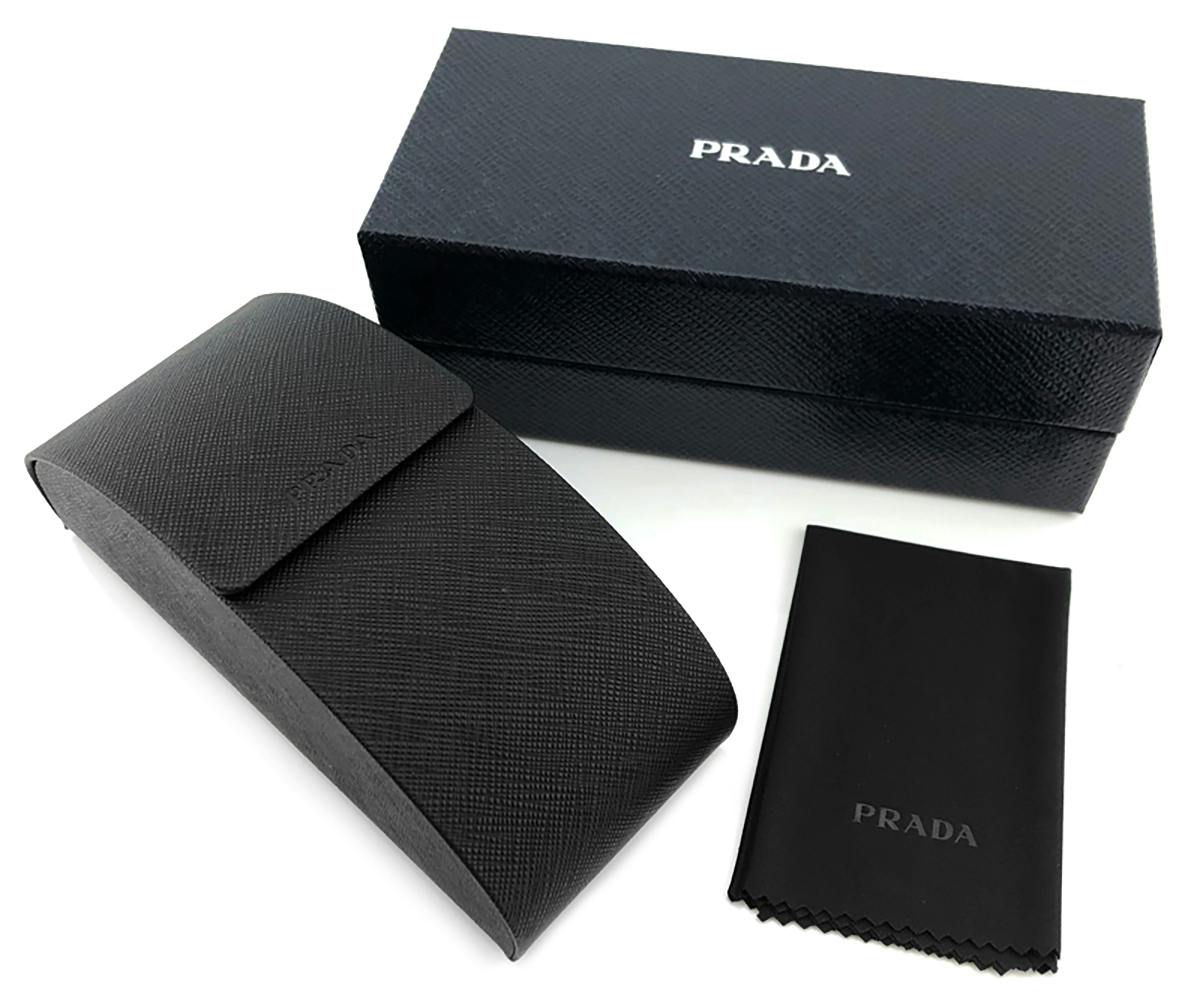 Black and White/Dark Grey Lenses
Ships within 4 weeks
Sign up to be notified when this item arrives.
SIZE GUIDE
DESCRIPTION
The Prada PR06YS sunglasses are a fashion style that are trending for men. These Black frames have a White border around the lens and will be a style that will be noticed and stand out from the crowed. Prada are one of the worlds leading luxury brands setting trends with their cutting edge designs. This frame is protective and stylish and one that will suit many occasions.
FRAME FEATURES
SKU: 06YS09Q5S053
Frame: Plastic
Lenses: Category 3 Lenses, Non-Polarised Lens
Shape: Rectangular
PRODUCT INCLUDES
Hard case and cleaning cloth
ABOUT THE BRAND
Shop the full range of men and women's Prada Sunglasses online at Just Sunnies with Fast Delivery and Free Express Shipping* offered in Australia. Prada sunglasses align with the brand's iconic trademark of innovative style, exclusive design and superior craftsmanship; see the top styles including the PR01OS, PR32PS and PS01US sunglasses and complete your purchase with Afterpay or Zippay. Manufactured using state-of-the-art technology, Prada eyewear provides 100% protection from UV radiation and offers polarised lenses. Shop an uncommon mix of trends, Prada sunglasses ooze sophistication and style, creating a presence that is sure to be a head-turner.
Dating back to the beginning of the 20th century, Prada was created in 1931 by Mario Prada. Since then, Prada has become one of the most prestigious and widely recognised brands in the fashion and luxury goods industry.
Prada began its journey with two little boutiques in Milan. Through these two boutiques, Prada had gained a loyal following of fashionable individuals from all across the United States and Europe. An international success was born. The brand's iconic trademarks incorporate the Savoy coat of arms and Savoy figure-of-eight knot, reflecting Prada's heritage as an official supplier to the former Royal family of Italy.
MANUFACTURER'S WARRANTY
Prada sunglasses have a 2-year warranty against manufacturers faults.
*General wear and tear is not covered under warranty For more information about warranty click here:
LENS & FRAMES
The below lens and frame information is general details about the different types of lenses and frames available from Prada. Specific lens and frame descriptions are available on each individual product description. Eg: Gloss Black/Grey Polarised Lenses. If you have any further questions please contact our customer service team at: support@justsunnies.com.au


LENSES
All Prada sunglasses comply with the Australian Sunglass Standards AS/NZS 1067:2003 so you can feel comfortable in the knowledge that your eyes are protected. CR 39 Lenses - CR 39 is also called hard resin or organic glass, a valid and highly efficient alternative to glass. CR39 offers 100% UV protection, have high impact resistance, and in comparison with other plastics CR 39 is much more non-scratch even without non-scratch surface treatment and they are lightweight and assure minimum chromatic aberration.


LENS CATEGORIES
Category 0 - These lenses are classed as fashion spectacles and not sunglasses. They provide limited or no UV protection.
Category 1 - These are not classed as sunglasses. They do provide limited protection from the sun and some UV protection. 
Category 2 - Category 2 lenses provide a medium level of sun glare reduction and good UV protection.
Category 3 - Category 3 lenses provide a high level of sun glare protection and good UV protection.
Category 4 - These are special purpose lenses that must not be used while driving at any time.
Most, if not all sunglasses sold by Just Sunnies are category 2 or 3 lenses. If you have questions about the lens category of your chosen style please do not hesitate to get in touch with our customer service team via email support@justsunnies.com.au or phone (07) 55350994.


FRAMES
Handmade Acetate - Handmade Acetate Frames are made from cellulose acetate material. Cellulose acetate is one of the most versatile of all plastic frame materials and the most commonly used. It a very adaptable material that can have a wide range of possible colour combinations, they are hypoallergenic and have high mechanical strength and chemical resistance. The frames are constructed by hand ensuring attention to detail and the best possible finish.
Monel Metal - This is the most widely used metal in the high-quality manufacturing of sunglasses. Monel metal is a mixture of any of a broad range of metals such as nickel, copper and iron. This metal keeps strength when shaped and is corrosion and stress-resistant.