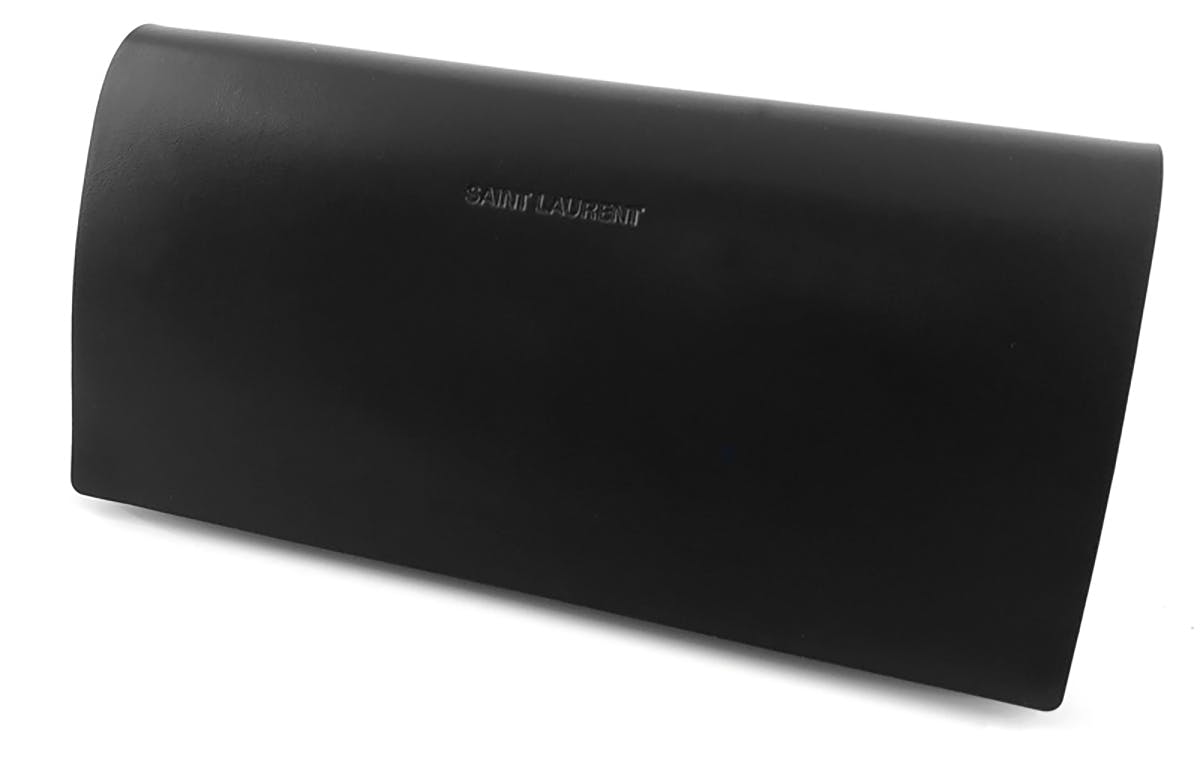 Saint Laurent
SL 276 MICA
Black/Grey Lenses
Ships within 8 weeks
Sign up to be notified when this item arrives.
SIZE GUIDE
DESCRIPTION
The Saint Laurent SL 276 MICA sunglasses are a full rim rectangular cat eye silhouette. These fashionable sunglasses are crafted from a high end quality acetate making them sturdy and comfortable. The combination of the Black frame and Grey Lenses offer a timeless sophisticated style that will be your go to time and time again.
FRAME FEATURES
SKU: SL276MICA001
Frame: Plastic
Lenses: Category 3 Lenses, Non-Polarised Lens
Shape: Cat Eye Soft, Rectangular
PRODUCT INCLUDES
Case
ABOUT THE BRAND
Shop the range Saint Laurent sunglasses online at Just Sunnies. Saint Laurent sunglasses are the ultimate statement as the eyewear collection focuses on creating a sense of luxury, elegance and sophistication. 
Saint Laurent sunglasses are made from top quality and exclusive materials, modelled into a range of different shapes and colour pallets that intensify the natural glamour and beauty.
Yves Saint Laurent was a king in design and fashion during his 45 year long career, many would say he set in motion the changes of the modern fashion industry that make it was it is today. In Paris 1962, Yves Saint Laurent and his partner Pierre Bergé founded the fashion house Yves Saint Laurent also known as Saint Laurent Paris. Since then, the brand Saint Laurent has become a worldwide sensation desired by the refined men and women with a love for true French design.
MANUFACTURER'S WARRANTY
Saint Laurent sunglasses have a 12-month warranty against manufacturers faults.
* General wear and tear is not covered under warranty
For more information about warranty click here:
LENS & FRAMES
The below lens and frame information is general details about the different types of lenses and frames available from Saint Laurent. Specific lens and frame descriptions are available on each individual product description. Eg: Gloss Black/Grey Polarised Lenses. If you have any further questions please contact our customer service team at: support@justsunnies.com.au
LENSES
Saint Laurent eyewear offers 100% UVA and UVB protection. Saint Laurent lenses are manufactured using CR39 which is also known as a hard resin or organic glass. CR39 offers great protection, are impact resistant, lightweight, and assures minimum chromatic aberration.
LENS CATEGORIES
Category 0 - These lenses are classed as fashion spectacles and not sunglasses. They provide limited or no UV protection.
Category 1 - These are not classed as sunglasses. They do provide limited protection from the sun and some UV protection. 
Category 2 - Category 2 lenses provide a medium level of sun glare reduction and good UV protection.
Category 3 - Category 3 lenses provide a high level of sun glare protection and good UV protection.
Category 4 - These are special purpose lenses that must not be used while driving at any time.
Most, if not all sunglasses sold by Just Sunnies are category 2 or 3 lenses. If you have questions about the lens category of your chosen style please do not hesitate to get in touch with our customer service team via email support@justsunnies.com.au or phone (07) 55350994.
FRAMES
Saint Laurent eyewear frames are made in Italy using quality acetate materials. Acetate is one of the most versatile and commonly used plastic for eyewear as it can be made into a variety of colours and patterns. This material makes Saint Laurent sunglasses durable and hypoallergenic.