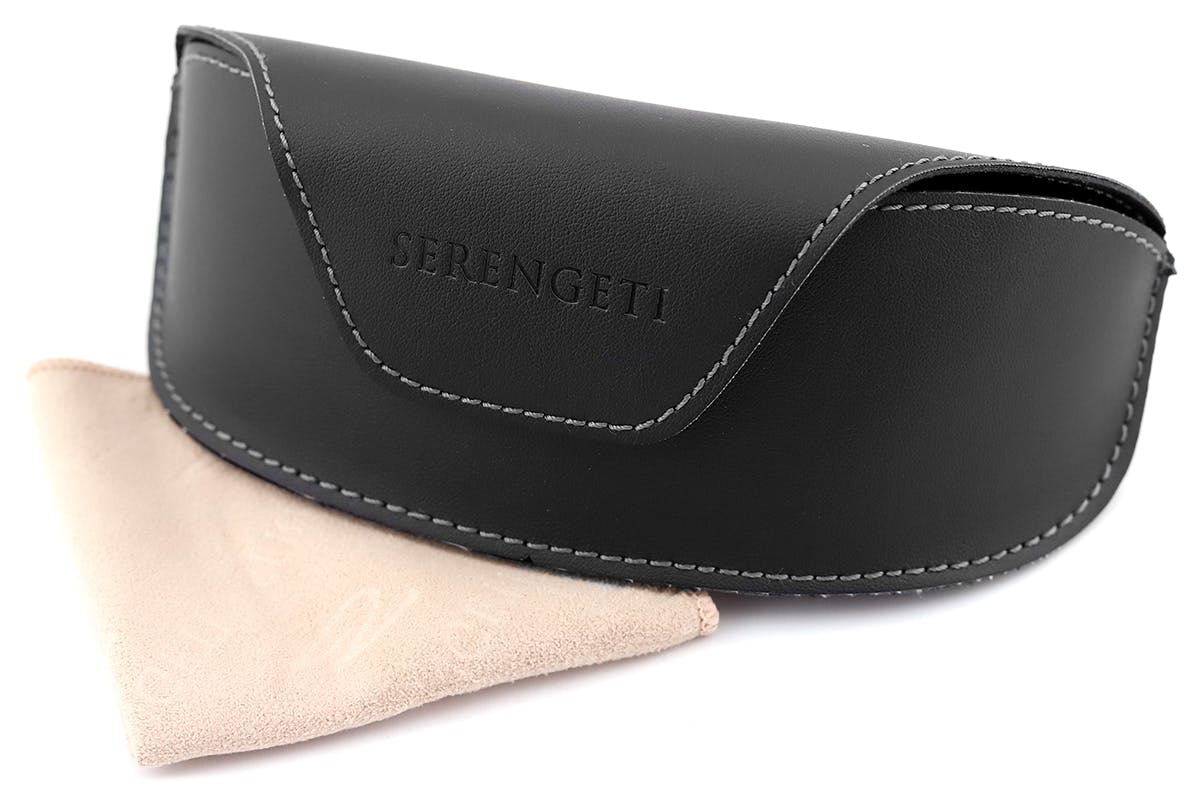 Shiny Red Tortoise/Brown Drivers Polarised Lenses
SIZE GUIDE
DESCRIPTION
Stunning curves and feminine design make Serengeti Valentina sunglasses a must-have glamorous pair of shades. Serengeti Eyewear are a high-end designer sunglass brand that is all about excellent style, craftsmanship and advanced technology.
FRAME FEATURES
SKU: 8568
Frame: Plastic
Lenses: Photochromic Lens, Polarised
Shape: Cat Eye Soft
PRODUCT INCLUDES
Case and cleaning cloth
ABOUT THE BRAND
See the largest collection of Serengeti Eyewear online at Just Sunnies Australia with Afterpay and Free Express Shipping* offered. Serengeti Sunglasses are famous for their photochromic lenses, making them the world's finest driving sunglasses designed to adapt to a wide range of weather conditions. Utilising patented lens technology engineered in the glass, Serengeti Eyewear delivers an exceptional level of comfort and clarity through its polarised lenses. See a range of shapes Serengeti is renowned for including semi-rimless and wrap around styles.
Discover a product that encompasses excellence due to the elegant shapes and highest quality materials used to create a product designed to endure the test of time.
The Serengeti experience is like none other. The brand has produced the optimal balance of technology and craftsmanship found only in a signature pair of Serengeti sunglasses. The high demand for Serengeti's incredible sunglass creations has become an overwhelming success for everyone involved in the design of its products. Once you wear a pair of Serengeti's, you'll never take them off.
Serengeti Sunglasses are known for their sophisticated, understated beauty that never goes out of style.
MANUFACTURER'S WARRANTY
Serengeti sunglasses have a 2-year warranty against manufacturers faults.
* General wear and tear is not covered under warranty
For more information about warranty click here:
LENS & FRAMES
The below lens and frame information is general details about the different types of lenses and frames available from Serengeti. Specific lens and frame descriptions are available on each individual product description. Eg: Gloss Black/Grey Polarised Lenses. If you have any further questions please contact our customer service team at: support@justsunnies.com.au


LENSES
One of the secrets to the world finest driving glasses is the Serengeti lens. Serengeti makes two types of lenses, glass and Polar PhD. Both lens feature Serengeti's incredible photochromic technology, which should come as no surprise because Serengeti pioneered this technology. These Photochromic lenses ensure that your eyes remain fatigue-free throughout the day regardless of the light conditions. So whether you choose glass or Polar PhD lenses, they come with advanced Photochromic technology that gives you everything you ever need.
Drivers: The driver's brown coloured lens is ideal for driving, as it adjusts to the changing light conditions that are inevitably encountered on the road. 
Drivers Gradient: The choice of pilots or anyone who requires eye protection in addtion to a crystal-clear view, the driver's gradient lens and provides exceptional clarity and confidence in all conditions. 
Drivers Polarised: With its versatile brown lens, the driver's polarised lens performs under cloudy and harsh light conditions. Plus, you get the added protection of the Serengeti polarising technology. 
555nm: Ideal for bright light conditions, the 555nm lens maximises greens and yellow for greater contrast and clarity. And With silver flash coating, glare has virtually no way in, from any direction.  555nm Polarised: This lens maximises greens and yellows for high contrast and clarity and combats glare with premium polarising technology. Ideal or all bright conditions. 
CPG™: The CPG, or cool photo grey lens, is ideal for all weather conditions, particularly harsh glare. With its exceptional polarisation properties, it's clearly not timid when it comes to maximum protection. Available in Polar PhD lenses.


LENS CATEGORIES
Category 0 - These lenses are classed as fashion spectacles and not sunglasses. They provide limited or no UV protection.
Category 1 - These are not classed as sunglasses. They do provide limited protection from the sun and some UV protection. 
Category 2 - Category 2 lenses provide a medium level of sun glare reduction and good UV protection.
Category 3 - Category 3 lenses provide a high level of sun glare protection and good UV protection.
Category 4 - These are special purpose lenses that must not be used while driving at any time.
Most, if not all sunglasses sold by Just Sunnies are category 2 or 3 lenses. If you have questions about the lens category of your chosen style please do not hesitate to get in touch with our customer service team via email support@justsunnies.com.au or phone (07) 55350994.


FRAMES
Nylon: Using only the highest-quality injected TR-90 nylon for superior durability, these frames have the added benefit of being exceptionally light, flexible and comfortable — not to mention highly fashionable.
Titanium: Elementally speaking, titanium has it all. These frames are ultra-lightweight, extremely strong and designed to automatically adjust to the contours of your head for long-lasting comfort.
Wire-Flex: Designed to bend to the contours of your face, the Wire-Flex frames feature a highly flexible and strong blend of nickel silver and stainless steel. The result is a fit that feels truly customised. Some Wire-Flex frames with leather-like Tannery finishes are available in select styles.
S-Flex: The revolutionary S-Flex design employs a mix of Monel and beta-titanium metals for a supremely durable, lightweight frame. It is also engineered with the "S" shaped temple design, providing a snug fit and unparalleled comfort. Some Wire-Flex frames with leather-like Tannery finishes are available in select styles.