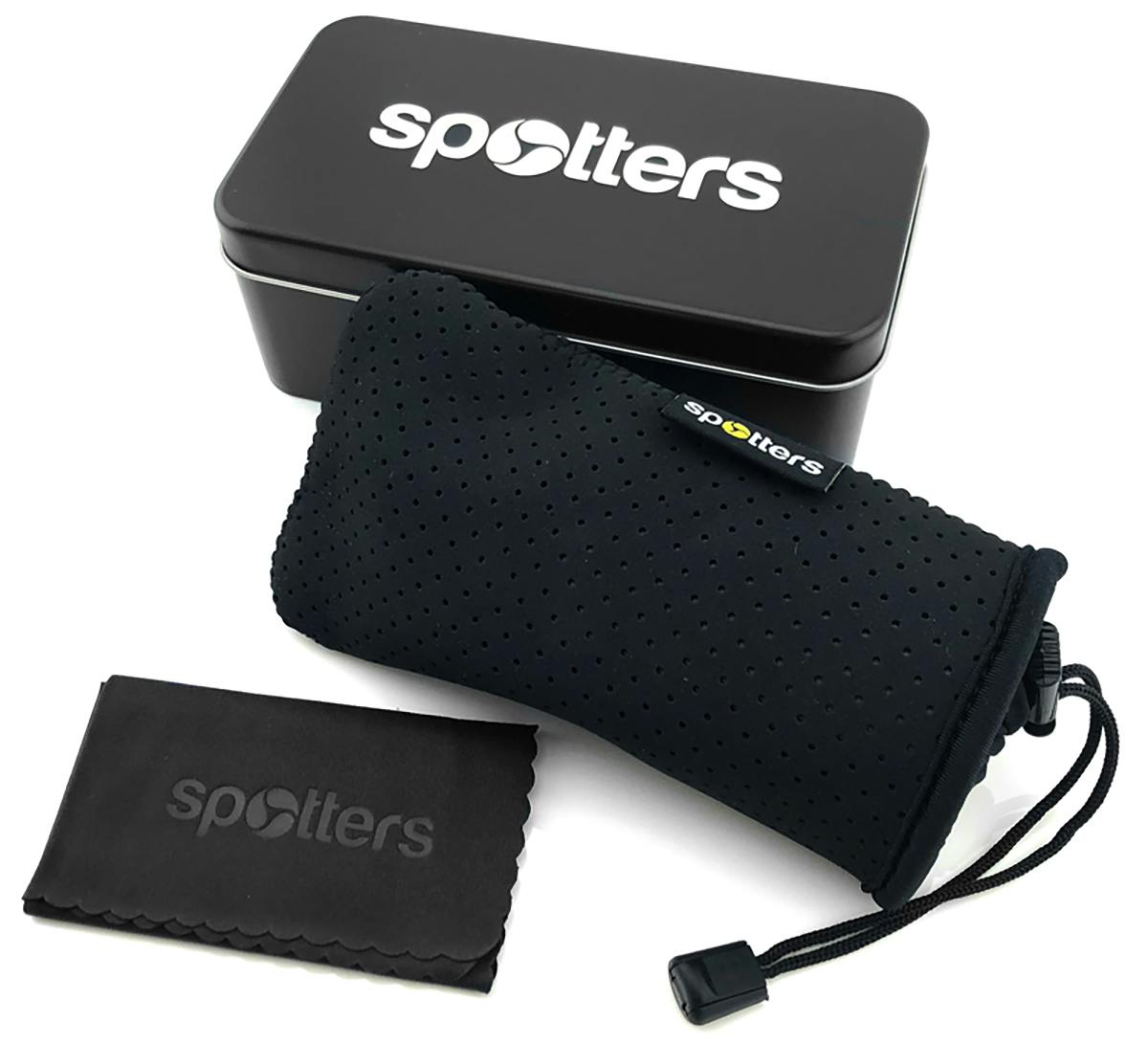 Matte Black/Carbon Glass Polarised Lenses
Coming Soon
Sign up to be notified when this item arrives.
SIZE GUIDE
DESCRIPTION
Keep dad cool in Spotters Riot Sunglasses, the coolest new style to hit the fishing scene! Spotters sunglasses feature strong, sleek designs that have been thoroughly tested to ensure optimum performance, perfect for casual wear or sporting events.
FRAME FEATURES
SKU: RIOMBCAR
Frame: Plastic
Lenses: Category 2 Lenses, Glass Lens, Photochromic Lens, Polarised, Prescriptable
Shape: Square, Wayfarer
PRODUCT INCLUDES
Soft Neoprene case and cleaning cloth
PERFECT FOR
Fishing/Watersports, Lifestyle
ABOUT THE BRAND
Shop the full range of Spotters Sunglasses online at Just Sunnies with Free Express Shipping* and Afterpay available. Spotters Eyewear are proudly Australian owned and famed for their optically clear lenses, making them perfect for fishing and the great outdoors. Every pair of Spotters are 100% optically correct and available in scratch-resistant glass or CR-39 lenses. Passionate about developing innovative technologies and advanced engineering, Spotters aim to elevate eyewear from just an accessory to an integral part of the outdoor experience. "Natural comfort, style, quality" – see your best with Spotters glare-free polarised sunglasses.
All Spotters sunglasses lenses are polarised, vastly reducing eyestrain, fatigue and provides natural clarity. Spotters frames are composed of only the highest quality, lightweight and hardwearing materials. The end result is a quality product offering unsurpassed visual performance. Spotters are committed to providing Australians with the finest sunglasses that can be manufactured.
Australia's own Spotters sunglasses seamlessly combine the world's best quality, latest technology and performance in a comfortable and stylish sunglass package.
MANUFACTURER'S WARRANTY
Spotters sunglasses have a 2-year warranty against manufacturers faults.
* General wear and tear is not covered under warranty
For more information about warranty click here:
LENS & FRAMES
The below lens and frame information is general details about the different types of lenses and frames available from Spotters. Specific lens and frame descriptions are available on each individual product description. Eg: Gloss Black/Grey Polarised Lenses. If you have any further questions please contact our customer service team at: support@justsunnies.com.au


LENSES
All Spotters sunglasses have polarised lenses that offer 100% UV protection and meet the Australian and New Zealand sunglasses requirements.
Penetrator Glass Photochromatic Lenses - Lenses that go lighter and darker depending on the light. Enhances vision in low light conditions. Under the new AUS/NZ lens standard 1067.1.2016 the Penetrator lens is no longer suitable for driving and is now classed as a specialised fishing lens. 
Halide Glass Photochromatic Lenses - Worlds darkest glass photochromic lenses. Perfect for high glare environments.
Carbon Glass Photochromatic Lenses - Grey Glass Photochromatic lenses. Dark tint blocks bright light and glare.
Gold Leaf Mirrored Glass Lenses - Real Gold Leaf mirror overlays a copper base tint for enhanced colour and depth perception. Mirror assists vision by reflecting away bright light and heat. 
Platinum Mirrored Glass Lenses - The platinum mirror overlays a light copper base tint for enhanced colour and depth perception. Mirror assists vision by reflecting away bright light and heat. 
Nexus Mirrored Glass Lenses - Nexus Mirror overlays an emerald base tint for natural colour and enhanced depth perception. Mirror assists vision by reflecting away bright light and heat. 
Ice Blue Mirrored Glass Lenses - Ice Mirror overlays a neutral Grey base tint for natural colour and enhanced depth perception. Mirror assists vision by reflecting away bright light and heat. 
Emerald Glass Lenses - Tinted at the precise point that allows the human eye to perceive colour. Enhanced depth perception, sharpening object edges and greater visual definition. 
CR-39 Copper Lenses - Increased colour contrast.
CR-39 Grey Lenses - Natural colour perception.
Need a Script?
If you would like to know more information about Spotters Prescription Sunglass service, please email support@justsunnies.com.au and one of our friendly staff will be in touch.


LENS CATEGORIES
Category 0 - These lenses are classed as fashion spectacles and not sunglasses. They provide limited or no UV protection.
Category 1 - These are not classed as sunglasses. They do provide limited protection from the sun and some UV protection. 
Category 2 - Category 2 lenses provide a medium level of sun glare reduction and good UV protection.
Category 3 - Category 3 lenses provide a high level of sun glare protection and good UV protection.
Category 4 - These are special purpose lenses that must not be used while driving at any time.
Most, if not all sunglasses sold by Just Sunnies are category 2 or 3 lenses. If you have questions about the lens category of your chosen style please do not hesitate to get in touch with our customer service team via email support@justsunnies.com.au or phone (07) 55350994.


FRAMES
Spotters offer either a tight wrap or a titanium frame. The tight wraps sit nice and snug on the face, eliminating peripheral glare. Titanium frames include a fusion of memory flex titanium and 316 Marine grade stainless steel. This is extremely lightweight and durable while remaining incredibly flexible.