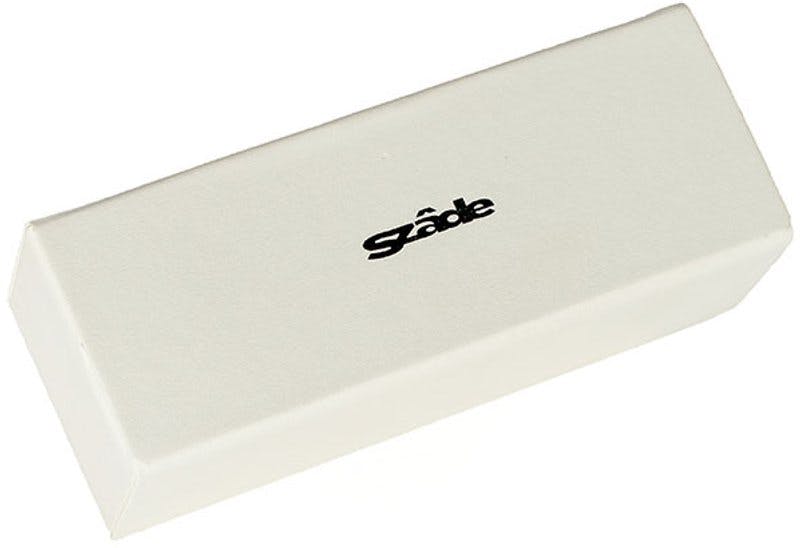 Ellis
Pinta Tort/Hustler Brown Lenses
SIZE GUIDE
DESCRIPTION
Face the day with the Szade Ellis Sunglasses! The Pinta Tort frame and Hustler Brown lenses combine for a signature colour way and cutting edge overlay lenses. Szade Sunglasses are imagined, designed and tested in Melbourne, Australia.
FRAME FEATURES
SKU: SZD212ELLPINTHB
Frame: Eco-friendly, Plastic
Lenses: Category 3 Lenses
Shape: Square
PRODUCT INCLUDES
Protective case and cleaning cloth
PERFECT FOR
Lifestyle
ABOUT THE BRAND
Shop the selection of Szade Recycled Sunglasses online at Just Sunnies, enjoy Fast Delivery and Free Shipping*. Szade eyewear are breaking the cycle when it comes to waste and excess in the fashion industry by creating trendy and sustainable sunglasses for everyone, everywhere - complete your purchase with Afterpay or Zippay. Browse fashion-forward shapes including rectangular and oval styles or shop the best-selling Dollin and Akira sunglasses in a variety of modern colourways. Szade endeavour to create eyewear that doesn't contribute to excess clothing and accessory waste by recycling discarded, broken and faulty sunglass frames that were destined for landfill. Their unique recycling process includes rejuvenating and moulding the recycled materials into brand new looking frames, the result is a collection of hand-assembled and perfectly polished eyewear that will not only make you look good but feel great by doing your part to help the environment.
Designed in the cultural and progressive city of Melbourne, Australia, Szade's core values are centred around sustainability, inclusivity, accessibility, diversity and innovation. This unique synergy of recyclable technology and fashion-forward design has made Szade a brand to watch due to their niche position in the eyewear industry. 
Szade is an eyewear brand not only for today, but for the future.
MANUFACTURER'S WARRANTY
Szade sunglasses have a 6-month warranty against manufacturers faults.
* General wear and tear is not covered under warranty
For more information about warranty click here:
LENS & FRAMES
The below lens and frame information is general details about the different types of lenses and frames available from Szade. Specific lens and frame descriptions are available on each individual product description. Eg: Gloss Black/Grey Polarised Lenses. If you have any further questions please contact our customer service team at: support@justsunnies.com.au
LENSES
All Szade sunglasses meet the Australian and New Zealand standards and offer 100% UV protection. Szade sunglasses are produced with Category 3 lenses which offer fantastic protection against sun glare while blocking 100% of UVA and UVB rays. 
LENS CATEGORIES
Category 0 - These lenses are classed as fashion spectacles and not sunglasses. They provide limited or no UV protection.
Category 1 - These are not classed as sunglasses. They do provide limited protection from the sun and some UV protection. 
Category 2 - Category 2 lenses provide a medium level of sun glare reduction and good UV protection.
Category 3 - Category 3 lenses provide a high level of sun glare protection and good UV protection.
Category 4 - These are special purpose lenses that must not be used while driving at any time.
Most, if not all sunglasses sold by Just Sunnies are category 2 or 3 lenses. If you have questions about the lens category of your chosen style please do not hesitate to get in touch with our customer service team via email support@justsunnies.com.au or phone (07) 55350994.
FRAMES
All Szade sunglasses frames are made from 100% recycled polycarbonate materials from discarded sunglasses.