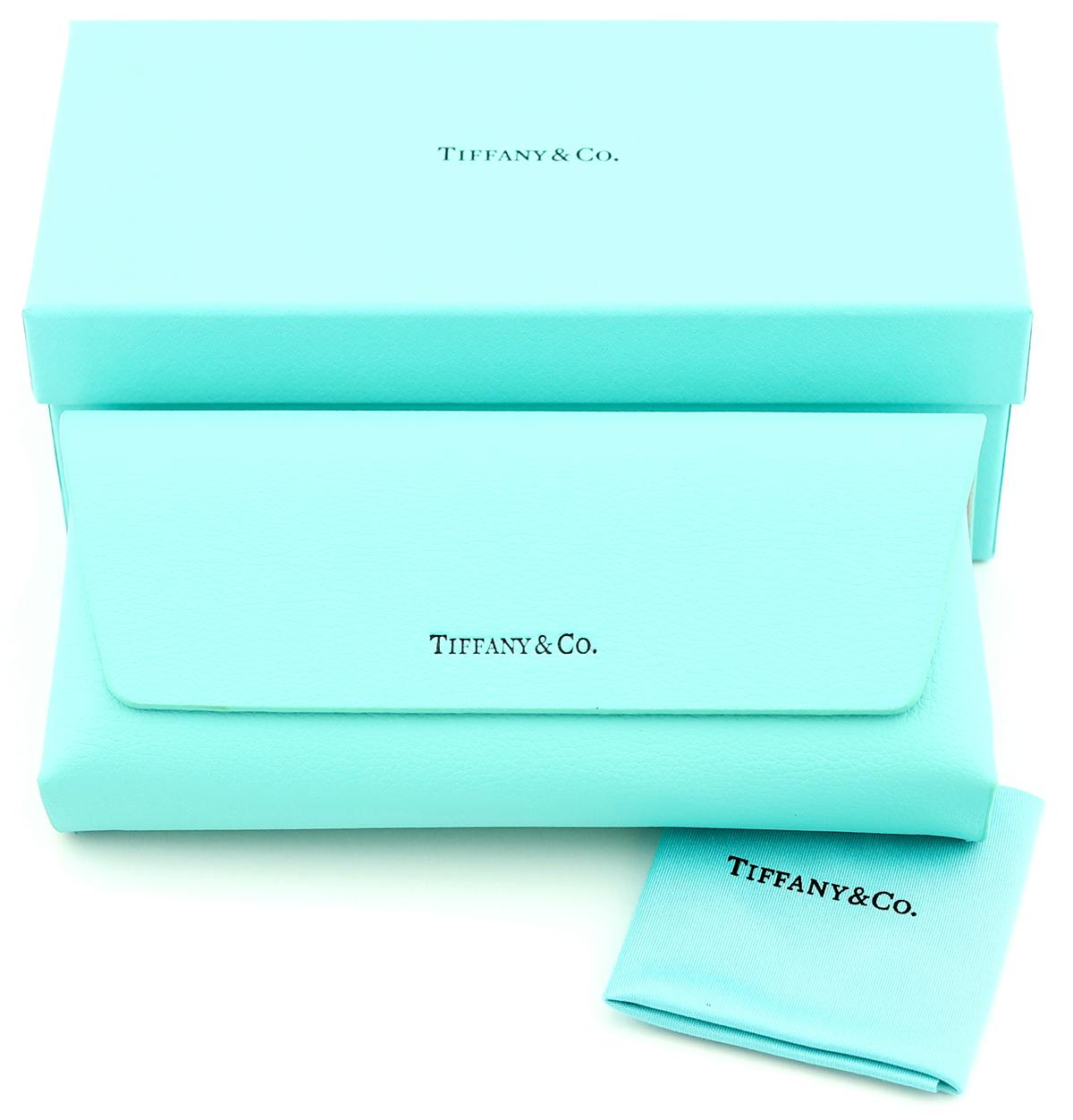 Black/Grey Gradient Lenses
SIZE GUIDE
DESCRIPTION
The Tiffany & Co TF4183 sunglasses are an elegant butterfly shaped silhouette with a modern edge. Handcrafted with high quality Italian acetate, these sunglasses look and feel like luxury. This style features gold accents across the each temple and is finished with the famous Tiffany Blue touches at the end of the temple tips. Just like Tiffany & Co jewellery, these sunglasses arrive in the Blue Tiffany & Co box.
FRAME FEATURES
SKU: 418380013C55
Frame: Plastic
Lenses: Category 3 Lenses, Graduated Lens, Non-Polarised Lens
Shape: Butterfly, Oversize
PRODUCT INCLUDES
Protective case and cleaning cloth
ABOUT THE BRAND
Shop the extensive range of Tiffany & Co. sunglasses online at Just Sunnies with Fast Delivery and Free Express Shipping* within Australia. The collection of Tiffany & Co. eyewear features the luxury brand's iconic colours and feminine design, shop the best-selling styles including the 3049B and 4150 sunglasses with Afterpay and Zippay to complete your purchase. First renowned for their stunning jewellery, Tiffany & Co. now features an array of classic and contemporary sunglasses designs for women including timeless round shapes and accentuated butterfly shapes. Emerging from the depths of a rich legacy, the Tiffany & Co. sunglasses express timeless and sophisticated designs to create a mesmerising collection of fabulous eyewear. 
In 1837 Tiffany & Co. was born in the City of New York and has ever since spread its influence across the globe, becoming a representation of elegance, creative brilliance, fine craftsmanship, and innovative design. Manufactured in Italy using only the finest quality material, each pair of sunglasses are engineered with precise workmanship and completed with original details that embody the Tiffany & Co. branding. Tiffany's luxurious designs have captured the true spirit of the New York lifestyle, with celebrities like Audrey Hepburn, Marilyn Monroe, Blake Lively, and Angelina Jolie flaunting the Tiffany & Co. brand.
From the eras of jazz and swing to the post-war peace through to the 21st century, Tiffany & Co. has remained an everlasting icon of elegance and class.
MANUFACTURER'S WARRANTY
Tiffany & Co. sunglasses have a 2-year warranty against manufacturers faults.
*General wear and tear is not covered under warranty For more information about warranty click here:
LENS & FRAMES
The below lens and frame information is general details about the different types of lenses and frames available from Tiffany & Co. Specific lens and frame descriptions are available on each individual product description. Eg: Gloss Black/Grey Polarised Lenses. If you have any further questions please contact our customer service team at: support@justsunnies.com.au
LENSES
Tiffany & Co. sunglasses offer 100% UV protection and meet the Australian standards. They have an anti glare coating to ensure ultimate clarity, improving contrast and eliminating lights from behind. Tiffany & Co. sunglasses have CR39 lenses which adds to their lightweight feel and  impact resistance. 
LENS CATEGORIES
Category 0 - These lenses are classed as fashion spectacles and not sunglasses. They provide limited or no UV protection.
Category 1 - These are not classed as sunglasses. They do provide limited protection from the sun and some UV protection. 
Category 2 - Category 2 lenses provide a medium level of sun glare reduction and good UV protection.
Category 3 - Category 3 lenses provide a high level of sun glare protection and good UV protection.
Category 4 - These are special purpose lenses that must not be used while driving at any time.
Most, if not all sunglasses sold by Just Sunnies are category 2 or 3 lenses. If you have questions about the lens category of your chosen style please do not hesitate to get in touch with our customer service team via email support@justsunnies.com.au or phone (07) 55350994.
FRAMES
Tiffany & Co. sunglass frames are made with an acetate material contributing to the sunglasses hypoallergenic, lightweight, and flexible features. Tiffany & Co. sunglasses are also available in silver and gold metal designs.