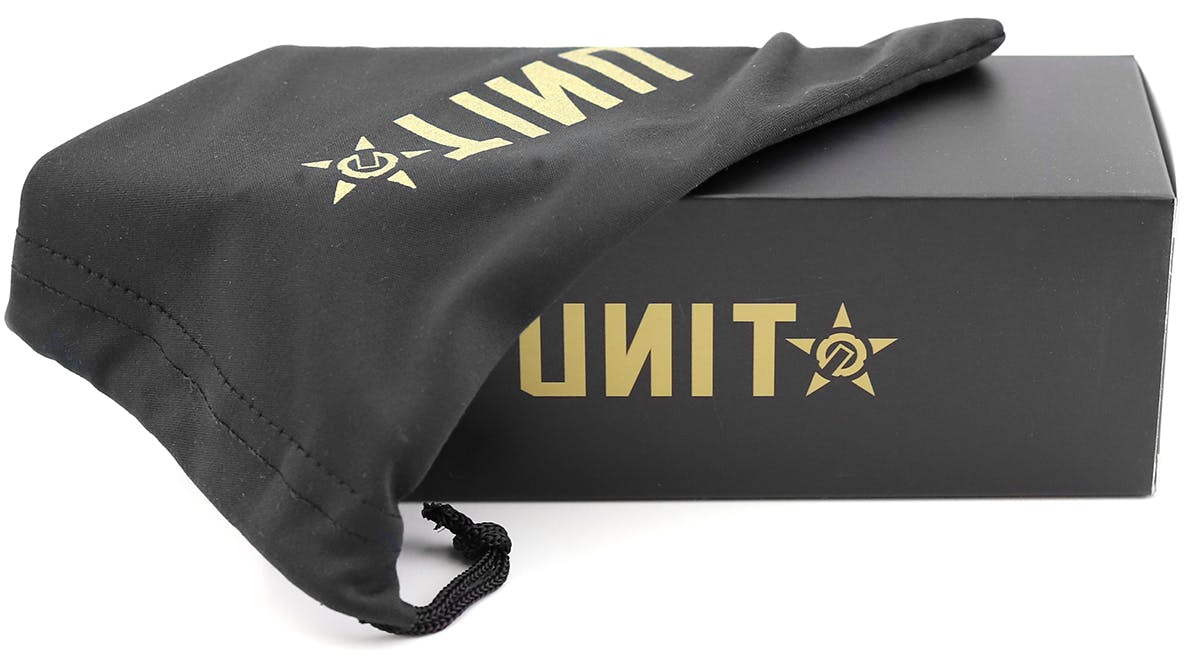 Matte Black/Grey Polarised Lenses
DESCRIPTION
The UNIT Vault sunglasses are an extension of the Command frame, with all the essential features into a slighltly different style.  UNIT is a street wear label for men and women, with a heritage stemming from a love for two wheel action sports and the art culture.
FRAME FEATURES
SKU: 209130032
Frame: Plastic
Lenses: Category 3 Lenses, Non-Polarised Lens
Shape: Square
PRODUCT INCLUDES
Microfibre bag
PERFECT FOR
Lifestyle
ABOUT THE BRAND
Shop UNIT eyewear online at Just Sunnies. UNIT offers a range of styles for men and women. UNIT is a streetwear label stemming from a background of two-wheel action sports. The brand is inspired by motorbike riding and a passion for art. UNIT was founded in 2002 on the Gold Coast, Australia and has since then reached all corners of the world.
UNIT has created a range of premium MX riding gear, clothing, accessories and eyewear that fans can't get enough of. Professionals in the industry pronounce Unit as the next big Aussie cult brand.  It is a unique brand with unique and out-there styles so be warned they are not just your average streetwear brand.
Whether you are looking for a large bold style or something smaller and subtle UNIT has you covered. With high sun glare protection and good UV protection UNIT creates dependable products.
MANUFACTURER'S WARRANTY
Unit sunglasses have a 12-month warranty against manufacturers faults.
* General wear and tear is not covered under warranty
For more information about warranty click here: Repairs & Warranties
Alternatively, you can contact Unit directly, simply provide a brief description of the fault, a copy of your receipt and a photo of the fault to warranty@unit.com, their customer service team will get back to you with a resolution. 
LENS & FRAMES
The below lens and frame information is general details about the different types of lenses and frames available from UNIT. Specific lens and frame descriptions are available on each individual product description. Eg: Gloss Black/Grey Polarised Lenses. If you have any further questions please contact our customer service team at: support@justsunnies.com.au
LENSES
UNIT eyewear has a selection of solid and mirror lenses. Produced using Swiss materials lenses are polycarbonate. UNIT offers a lens category 3 - high sun glare protection and 100% UV protection.
LENS CATEGORIES
Category 0 - These lenses are classed as fashion spectacles and not sunglasses. They provide limited or no UV protection.
Category 1 - These are not classed as sunglasses. They do provide limited protection from the sun and some UV protection. 
Category 2 - Category 2 lenses provide a medium level of sun glare reduction and good UV protection.
Category 3 - Category 3 lenses provide a high level of sun glare protection and good UV protection.
Category 4 - These are special purpose lenses that must not be used while driving at any time.
Most, if not all sunglasses sold by Just Sunnies are category 2 or 3 lenses. If you have questions about the lens category of your chosen style please do not hesitate to get in touch with our customer service team via email support@justsunnies.com.au or phone (07) 55350994.
FRAMES
The material used is a polycarbonate lensTR90 frame allowing for a lightweight, flexible, and strong frame with 100% memory. This TR90 frame material is resistant to extreme heat and cold so it won't lose its shape. Featuring impact hinges made from 82% stainless steel and 18% silver they are strong and durable.