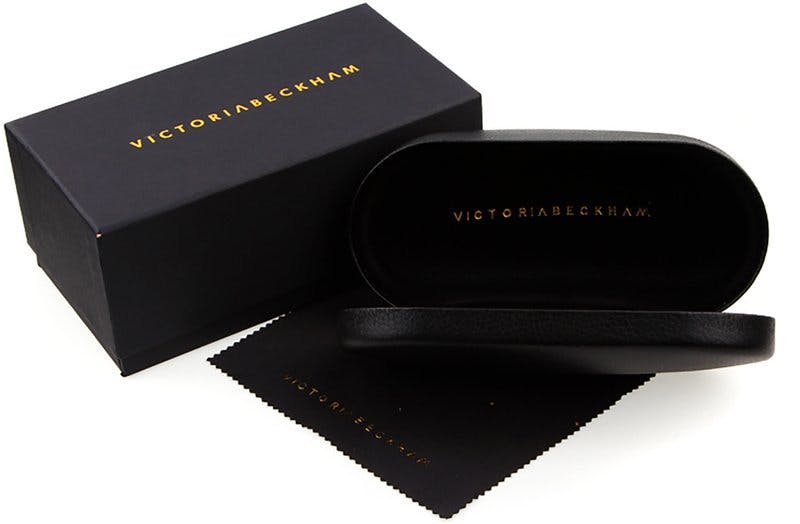 Black/Dark Grey Gradient Lenses
DESCRIPTION
The Victoria Beckham VB626S sunglasses are a fashion statement style with its sleek construction and elegant design. Victoria Beckham eyewear is all about expressing yourself to the fullest and incorporates beauty and attitude in a modernised way.
FRAME FEATURES
SKU: 626S0015914
Frame: Plastic
Lenses: Category 2 Lenses
Shape: Fashion Statement, Oversize, Square
PRODUCT INCLUDES
Hard case and cleaning cloth
ABOUT THE BRAND
Shop the full range of modern statement styles by Victoria Beckham Eyewear online at Just Sunnies with Afterpay and Free Express Shipping* to complete your purchase. The collection of Victoria Beckham sunglasses mixes classic signature styles with attitude, luxury, and sophistication, explore the collection of women's sunglasses styles with Fast Delivery. Victoria Beckham Eyewear has constructed each piece with the combination of smooth acetates and fine metals, executing the product with elegant detailing and bold profiles that compliement both the high end and the everyday look.
Victoria Beckham founded her fashion label in 2008 and has since then become a spokesperson and leader in modern minimalistic fashion. The brand has a deep sense of sophistication and dressing women in bold, confident looks that will stop you in your tracks. Refined, striking, spontaneous, each eyewear frame from the collection is made in Italy showcasing exceptional craftsmanship and manufacturing. Illustrating superior eyewear designs that represent performace, flair and protection, Victoria Beckham Eyewear is a brand that will add a hint of opulence to your life.
MANUFACTURER'S WARRANTY
Victoria Beckham sunglasses have a 12-month warranty against manufacturers faults.
* General wear and tear is not covered under warranty
For more information about warranty click here:
LENS & FRAMES
The below lens and frame information is general details about the different types of lenses and frames available from Victoria Beckham. Specific lens and frame descriptions are available on each individual product description. Eg: Gloss Black/Grey Polarised Lenses. If you have any further questions please contact our customer service team at: support@justsunnies.com.au
LENSES
All Victoria Beckham sunglasses meet the Australian and New Zealand standards and offer 100% UV protection. Victoria Beckham lenses are plastic making these a lighter frame and the sunglasses come in a range of solid and gradient lenses with fashion colours making these a stand out.
LENS CATEGORIES
Category 0 - These lenses are classed as fashion spectacles and not sunglasses. They provide limited or no UV protection.
Category 1 - These are not classed as sunglasses. They do provide limited protection from the sun and some UV protection. 
Category 2 - Category 2 lenses provide a medium level of sun glare reduction and good UV protection.
Category 3 - Category 3 lenses provide a high level of sun glare protection and good UV protection.
Category 4 - These are special purpose lenses that must not be used while driving at any time.
Most, if not all sunglasses sold by Just Sunnies are category 2 or 3 lenses. If you have questions about the lens category of your chosen style please do not hesitate to get in touch with our customer service team via email support@justsunnies.com.au or phone (07) 55350994.
FRAMES
Victoria Beckham eyewear is made in Italy with high quality Acetate and metal. Acetate is a durable and flexible material that offers a vibrant and diverse range of colours creating unique and strong products.