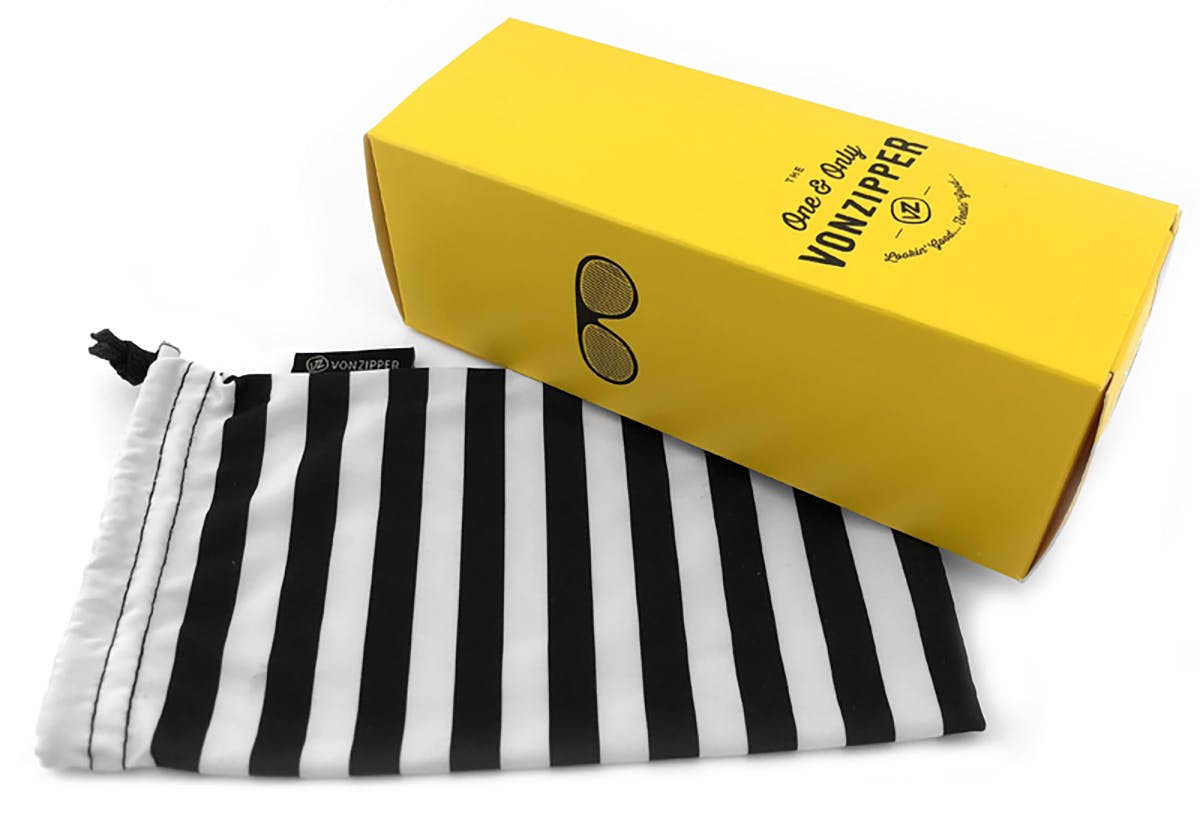 Tahitian Sunset/Bronze Gradient Lenses
DESCRIPTION
The Ya Ya sunglasses by Von Zipper are a fun and flattering cat eye shape that is perfect for everyday wear or dressing up. Von Zipper is all about lifestyle and personality. The brands alternative mindset creates sunglasses that reflects rebellion, innovative designs, and next-level style.
FRAME FEATURES
SKU: SJJYAYTHB
Frame: Plastic
Lenses: Graduated Lens, Non-Polarised Lens
Shape: Cat Eye Sharp
PRODUCT INCLUDES
Microfibre bag
ABOUT THE BRAND
Shop the full range of Von Zipper Sunglasses online at Just Sunnies, enjoy Fast Delivery and Free Express Shipping* in Australia. Von Zipper Sunglasses are unlike anything else, constantly bringing smiles to the faces of men and women who buy them and building relationships based on the brands 'out-of-the-box' mindset, complete your purchase with Afterpay or Zippay. Von Zipper eyewear is regularly spotted on skating and surfing superstars. The innovative designs are forever evolving, bringing customers the alternative and bold styles they are chasing.
Von Zipper began in California in early 2000, when a group of friends banded together to design eyewear. The purpose of Von Zipper was to create innovative styles, reflecting the surf, skate, and biking culture they all lived by. The group of friends wanted to design sunglasses with strict attention to detail, using the highest quality materials, while reflecting the rebellious and adventurous attitude they had to life. And they have managed to do just that; the alternative mindset of sideways subcultures is what has made them a worldwide success.  
You won't be disappointed by Von Zipper's quality and style. 
MANUFACTURER'S WARRANTY
Von Zipper sunglasses have a limited lifetime warranty against manufacturers faults.
* General wear and tear is not covered under warranty
For more information about warranty click here:
LENS & FRAMES
The below lens and frame information is general details about the different types of lenses and frames available from Von Zipper. Specific lens and frame descriptions are available on each individual product description. Eg: Gloss Black/Grey Polarised Lenses. If you have any further questions please contact our customer service team at: support@justsunnies.com.au
LENSES
Von Zipper uses the most advanced lens technology available, with all sunglasses offering 100% UV protection from the sun. Von Zipper offers cutting edge polarised technology, which features a thin filter on the lens that only allows light to enter at certain angles. This gives wearers the highest optical and colour clarity, cutting out 99.9% of glare. Von Zipper has three unique polarised lenses to offer; glass, melanin, and tri-motion. Experience clarity like never before in a pair of Von Zipper sunglasses.  
LENS CATEGORIES
Category 0 - These lenses are classed as fashion spectacles and not sunglasses. They provide limited or no UV protection.
Category 1 - These are not classed as sunglasses. They do provide limited protection from the sun and some UV protection. 
Category 2 - Category 2 lenses provide a medium level of sun glare reduction and good UV protection.
Category 3 - Category 3 lenses provide a high level of sun glare protection and good UV protection.
Category 4 - These are special purpose lenses that must not be used while driving at any time.
Most, if not all sunglasses sold by Just Sunnies are category 2 or 3 lenses. If you have questions about the lens category of your chosen style please do not hesitate to get in touch with our customer service team via email support@justsunnies.com.au or phone (07) 55350994.
FRAMES
VonZipper frames are handmade in Italy, crafted from high-quality nylon grilamid for maximum flexibility. The frames are help together with corrosion-free hinges. VonZipper metal sunglasses are made from optical quality alloy and held together with stainless steel optical hinges.