All Categories
How-to-guide
6 min | 27th January 2022
The Golf Sunglasses Guide
For many, warm weather and blue skies call for a day on the green with golf gear in tow. In Australia and around the globe, golf is only growing in popularity with professionals, long-time players and amateurs frequenting their local golf course for both serious and social games. As golf season is typically around September to May, the hottest months in Australia, it's important to be equipped with the right eyewear that will offer protection from the sun while enhancing performance.
We're here to talk about all things golf and how to keep your eyes safe while you're on the green.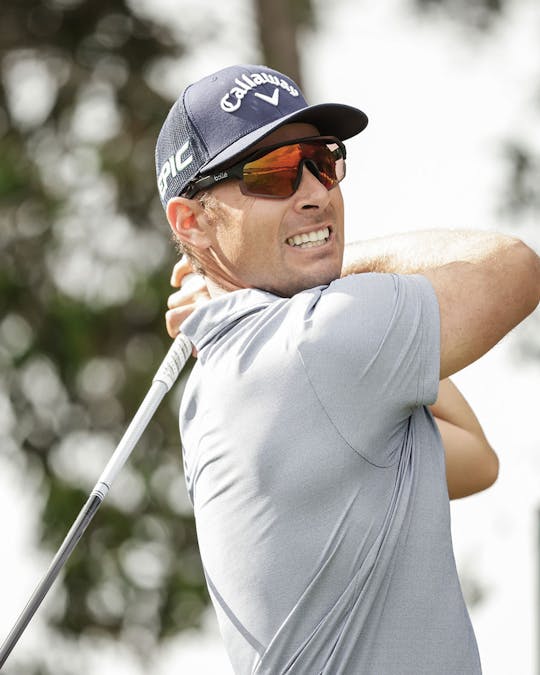 What colour sunglasses are best for golf?
Whether you're a pro golfer or you're just starting out, a good pair of sunglasses is essential when you're on the course. Not only will they shield your eyes from the sun beating down in the hottest parts of the day, but the right pair of sunglasses can also improve your coordination and precision, taking your game to the next level. This comes down to which coloured lens and technology you decide to go for as tinted lenses can make a huge difference to the depth of perception all the while enhancing the right colours around you.
Brown & Amber Lenses
Brown or amber lenses are perfect for golf due to their warm tint that enhances colour and contrast. Heightened colour improves detail on the course, making this coloured lens very effective for reading the green. Not only is contrast improved on the course so you can see the change in terrain more easily, but brown lenses against the blue sky make tracking the ball in the air much easier also. Lenses with a warmer tone also work great in overcast conditions through heightened colour contrast that brightens up your surroundings. This allows you to not only play in just about any condition, but it also brightens up the colour of the ball making it easy to track. While the tint is warmer than grey lenses, brown and amber lenses don't significantly alter the true vision of colour.
Rose Lenses
Rose lenses are another great option for golf. Sharing similar lens properties to brown and amber lenses due to their warm appearance, rose lenses allow your eyes to extract red and yellow tones within the colour green, making them especially effective on golf courses. By extracting those colours, it allows your eyes to better read the breaks and grains within the course. Like brown and amber lenses, rose tints are also great for when lighting and weather conditions are compromised, however, they aren't as true-to-colour as rose lenses have a pinky hue.
Grey Lenses
While not usually the first choice for golfers who are keen to use lens technology to leverage their performance, lenses with a grey tint are still a great choice for bright sunny days on the green. Grey lenses don't share the same colour enhancement properties as brown, amber and rose coloured lenses, instead, they offer the most neutral lens colour to look through while also being the darkest tint. This helps with blocking excess light and brightness and are also recommended for those who have extremely light-sensitive eyes.
Blue Lenses
Blue lenses have many benefits by being a generally darker lens that protects your eyes from UV rays and glare. This tint is also great for foggy mornings where light can be compromised, however, their benefits for golfers don't extend much beyond that. Instead of counteracting the green colour of the course like a brown lens would which heights colour contrast, blue lenses may do the opposite, making it harder to track the ball and changes in the course.
Are polarised sunglasses better for golf?
When it comes to choosing between polarised and non-polarised lenses for golf, it really comes down to personal preference. Some people swear by them, while others believe it can hinder your performance. The advantages of wearing polarised sunglasses when playing golf are that they stop bright, harmful glare from hitting you directly in the eye. This is especially important if you play in hot on bright weather conditions as staring into glare may make you lose track of your ball after you swing. Polarised lenses offer the best protection against bright light, so in most cases, they are highly recommended.
Where polarised lenses are up for debate is when it comes to precision ball sports, where detail and tracking are crucial. Polarised lenses can affect depth perception and cause distorted vision, this could change the way you track the ball while inducing eye strain. Some tend to avoid polarised lenses for their anti-glare property as many golfers determine changes in the grain by the shine that comes off the green.
If you don't golf on courses with water or sand nearby that reflect lots of glare, you can probably skip polarised lenses and go for a pair of sunglasses with a category 3 lens. However, if you would prefer polarised lenses for extra eye protection, we recommend taking off your polarised sunglasses before you read the green.
What to look for in golf sunglasses
We've covered what lenses are best for golf, however, there are a few other factors you need to consider when purchasing a pair of sunnies for golf. Choosing the right frame along with the right lens technology will ensure your golf game reaches its peak. When it comes to frames, comfort is key; choosing a pair of sunglasses with a lightweight frame will prolong wearability while sitting comfortably on your face. Try to look for shades made from nylon or other lightweight materials like Oakley's O-Matter frames. Try to avoid thick acetate or metal frames as they can be heavier and less secure than other frame materials.
Grip is also another key thing to look out for when it comes to sunglass frames. Look for styles that have rubber temples and nose pads as this feature will keep your frames aligned while making sure they don't slide off of your face. Most sports designs will have rubber pads built into the frame and they prevent them from moving around while you're moving.



It may come across as obvious, but choosing the right sized frame is also important. Lucky for many, there's a huge range of sports sunglasses that cater to all head sizes ranging from small to extra large. Choosing a pair of well-fitted sunglasses is crucial in ensuring you're comfortable, you have the right amount of coverage, and that they won't slip off mid-swing.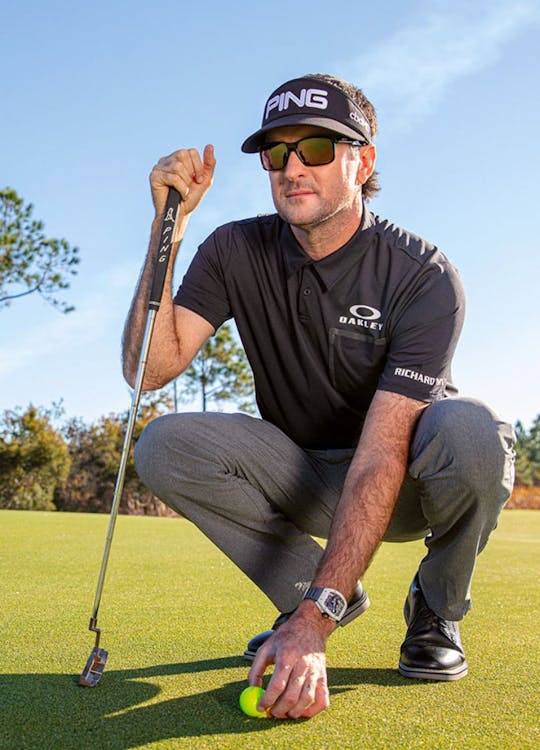 Our top picks for golf sunglasses
The wrap-up
When choosing the right pair of sunglasses for golf, the most important thing to consider is lens colour as this can enhance or hinder your performance. We recommend opting for a brown, amber or rose lens that will assist in tracking the ball and reading the green while being comfortable to look through. When it comes to polarisation, if you're worried your sunglasses might prevent you from seeing necessary details, you might want to skip on polarised lenses. Comfort is key; go for sunglasses that are light in weight with a wraparound shape that will sit comfortably on your face without falling off mid-swing. As always, our friendly customer service team is happy to assist in finding the right sunglasses for you. Shop our golf sunglasses collection to find all the best styles in one place, online at Just Sunnies.